Corona-Proof Ways to Enjoy Halloween
There are many safe activities to can participate in during this upcoming holiday.
Spooky season is upon us! However, that does not mean the global pandemic we are in will be put on pause. While we still need to be safe and cautious, there are still many ways we can enjoy this unofficial holiday. 
In order to get yourself in the festive spirit, try decorating your living space. Whether it's the outside of your house, your bedroom, your apartment, or your living room, there are ways to spice up any area of your residence.
You can make your own tombstones to turn your front yard into a graveyard. Head to your local Target to check out their selection of Halloween pillows to spook up your couch and living room. You can live, breathe, and sleep Halloween by purchasing ghoulish sheets and blankets to adorn your bed.
These are all activities you can participate in with your whole family or anybody you have been quarantining with for the last several months. 
Trick-or-Treating is a Halloween tradition, and no one wants to ruin this tradition for their younger siblings, nieces, nephews, and cousins. When participating in this annual event, remember to follow the proper safety precautions. Many cities are promoting a "candy chute" made out of PVC pipe to safely distribute children's treats.
Make sure to wear your masks as well to stay safe and dress up. 
If Trick-or-Treating and going out on Hallow's Eve has never really been your thing, then there are still ways for you to celebrate this holiday. Pull together whoever you have been quarantining with, or a small group of friends, to have a Halloween movie marathon. You can do this outside and socially distanced with a white bed sheet and movie projector or inside the comfort of your home.
Either way, you and your family or friends can enjoy classic Halloween movies like Halloweentown, Hocus Pocus, Halloweentown II, The Nightmare Before Christmas, and Return to Halloweentown together. 
If movies and candy seem like kids' things to you, you may want to participate in a more mature activity. Well, what's more mature than a dinner party?
You can turn your home into the Clue Board Game and have a mystery murder dinner party trying to find out who killed "Mr. Boddy." Create three decks of cards with the names of the people coming to the dinner party, objects in your home that resemble potential murder weapons, and the rooms in your home open to your guests. Everyone takes a card from each pile, while one of each card is placed in an envelope and sealed. Now continue through the night and follow the rules of the board game in real life. 
These are only a few of the many festive ways to lift your spirits during these trying times, but the possibilities for spooky fun are endless. No matter what activity you decide to partake in on Halloween, make sure to stay safe and have fun. 
About the Contributors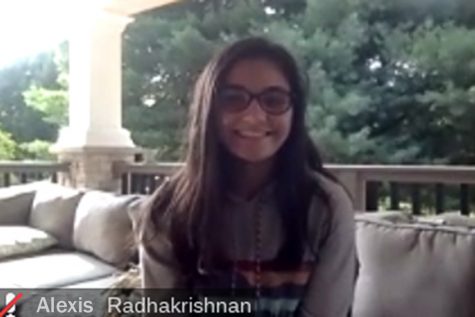 Alexis Radhakrishnan, Staff Reporter
My name is Alexis Radhakrishnan. I am a senior at Dunbar and this is my third year on the Lamplighter staff. I am excited to contribute to the program...
Dylan Stern, Resident Cartoonist
Hi! I'm a senior and this is my second year as a cartoonist for lamplighter. I love all kinds of art, but my favorite medium is ink. I'm excited to...