Weathering with You Blows Away International Audiences
Director Shinkai's latest movie, Weathering with You, has received praise all around the globe as well as several awards.
Japanese director Makoto Shinkai's latest movie, Weathering with You, has blown international audiences away. The movie was released on Jan. 17 in the U.S., with a Rotten Tomato rating of 92%, a  box office of $180 million worldwide, along with an award for Best International Feature Film from the 92nd Academy Awards.
Needless to say, Weathering with You has not disappointed old fans and new ones alike. Director Makoto Shinkai did not displease. 
The story follows Hodaka Morishima, a 16-year-old runaway living in a Tokyo that has rainfall on a daily basis. He seeks a job to afford to live in Tokyo independently and starts working for an independent publishing company that specializes in stories about supernatural events. Eventually, they investigated the mysterious appearance of so-called "weather maidens", who are able to change the weather. After meeting a weather maiden in person, the two of them decide to make a business out of it, by calling for sunny skies based on clients' requests.
Several movie critics have commented on the fascinating plot as well as the quality animation. However, I'd like to focus on the original soundtrack of the movie as well as the possible meanings behind it.
Needless to say, RADWIMPS is a popular band in Japan and has been for nearly two decades, receiving much attention since 2003. According to Forbes, they also scored the soundtrack for Director Shinkai's Your Name, another successful anime blockbuster released in 2016. 
RADWIMPS and Shinkai would email back and forth, consulting each other for directions to take the movie and the soundtrack. The theme song, Is There Still Anything Love Can Do, a total of seven minutes long, has received over 46 million views on YouTube. 
Personally, I think the soundtrack adds a lot of depth and emotion to the movie. It helped to emphasize and highlight certain scenes of the movie, which reinforced the pacing during different parts. With such an emotional movie, with plenty of serene as well as intense scenes, the soundtrack was crucial to its success.
On another hand, the movie's message has left audiences questioning whether or not the theme was intentional.
The movie focuses on an alternate Tokyo where the weather is unstable and heavy rain downpours are to be expected. Some speculate that this is a nod to the current global warming issues around the globe, with strange weather cycles. At one point in the movie, it snows despite being summer and then lightning strikes a truck. This kind of weather seems remarkably similar to the strange weather cycles we experience: freezing cold one day, then 70 degrees the next.
As a line of the movie states, "Who cares if we don't see the sunshine ever again? I want you more than any blue sky. The weather can go crazy." It makes you wonder if the director was targeting that message at us.
If humans continue to indulge in their desires, then the weather will indeed continue like this, if not become worse. The director isn't condemning us because we refuse to give up our habits, but asking us if these habits are worth it. In the end, it's up to us to decide whether or not to sacrifice our old ways to save the weather.
About the Contributors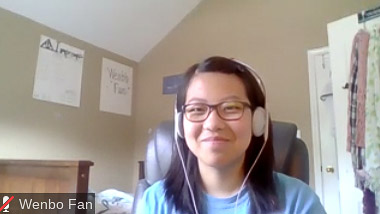 Wenbo Fan, Staff Reporter
My name is Wenbo Fan and this is my fourth year on Lamplighter. Since starting Lamplighter freshman year, I've learned that journalism can change the...