Hollywood's Bleeding by Post Malone
Post Malone's new album, is topping the charts and leaving students with mixed opinions.
On Sept. 6th, 2019, Post Malone released his third hit album entitled "Hollywood's Bleeding" and it is topping the charts. The album includes 15 new songs, and two songs that were pre-released: "Sunflower" and "Wow." The album has had mostly positive reviews so far, here are my thoughts.
My Top 5 Songs On The Album:
"Hollywood's Bleeding"
This song opens the album and provides a strong start. Malone speaks about the corruption of Hollywood and the numerous reasons it's falling apart, yet for so many people, it's still their home and where they strive to be. It has a great beat and a catchy chorus, but I also like that he still focuses on the main point he is trying to get across and doesn't lose it.
"Allergic"
Probably my favorite on the album, this upbeat and flowy song is very rhythmic. Malone switches from fast and slow paces throughout the song and it works well.
"I like it, there are more kinds of upbeat songs. Most of them are about time passing but he keeps the theme of broken relationships and pain," said Junior Emily Spores.
"I like Allergic because it's a little more upbeat and has a different feeling to it, and he uses different keys in this song that he doesn't use in his other songs. I also like Wow because it's also super upbeat, but it uses more of his normal go-to techniques." 
This song does have a very different feeling from his other songs and I think that's why so many people like it. This song is definitely a fan favorite.
"I like Beerbongs and Bentleys better, but this album was pretty good. I really like Allergic because it's an upbeat song and while it changes the tone a lot, it still all flows," said Senior Brionda Johnson.
"A Thousand Bad Times"
I love the lyrics to this song because he gives a relatable vibe and it is almost comical at times. He sings, "I should get out, but I still want more. I should get out, what am I waiting for? It's all the same to me, it's all a game to me."
Malone speaks about being with someone he knows he should have ended things with a long time ago, yet still wants more. I almost feel that he is accepting that his relationship isn't in a good place, and he is constantly disappointed, but why change anything now since that's his routine? Along with great lyrics, the beat and chorus are catchy. 
"Sunflower (feat. Swae Lee)"
This song is probably the album's most popular piece due to its appearance in Spider-Man: Into The Spider-Verse. 
"I think my favorite had to be Sunflower. It was the theme of the animated Spider-Man movie, and Spider-Man is my favorite superhero. It also uses a more relaxing beat I can listen to almost anytime," said Junior Harrison Neff. 
"Goodbyes (feat. Young Thug)"
The lyrics in this song are extremely relatable and well written. While I wasn't a huge fan of Young Thug's part in this song, Malone's voice saves it. He speaks about a bad breakup that he has trouble ending in a mature way. 
"There's no way I can save you, 'cause I need to be saved too. I'm no good at goodbyes." This song is sad, yet still a catchy song you could jam to. 
My Final Thoughts
Overall, I really enjoyed this album. I liked almost every song and while there are 17 songs on the album, you can still listen to every song in under an hour. However, not everyone had an extremely positive review. 
"It's good I guess, but overrated and it all sounds the same. I just think all the songs on the album sound too similar, and none of them stand out to me enough to really like. So definitely, as a whole, the album isn't very thrilling to me," said Junior Lucy Nunnelly. 
Not everyone will have the same opinion about the album and that's okay. Go take a listen and form your own opinion.
About the Contributors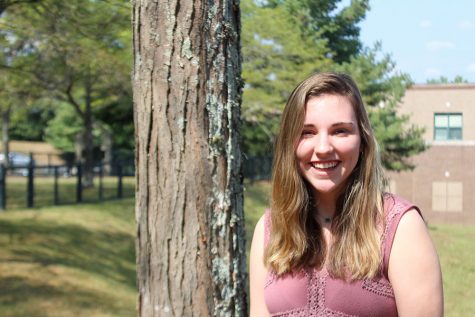 Elizabeth Fitzpatrick, Staff Reporter
I'm Elizabeth Fitzpatrick and I'm a Junior. I dance competitively at a studio called Creative Edge and I love to create art and write. I wanted to...