A Must Read Debut
International Best-Selling Author, Lang Leav's debut novel, Sad Girls, is a heart wrenching coming of age story that explores the real-life consequences of gossip, heartbreak, and young love.
The book is an easy read, something I would recommend to any student looking to find a book to reach reading requirements for any basic level English class. It doesn't require much thought and doesn't force the reader to be present while reading the story.
However, I found myself immediately engrossed in the book, not wanting to put it down. Leav's ability to pull the reader in such a short time is impressive. On the first page her main character, 18-year-old Audrey, addresses, vaguely,
Even after the secret is unveiled to the reader, the mystery appeal is still alive and continues to possess Leav's audience to read on.
Almost immediately the love interest, Rad, is introduced. The relationship is complicated and messy for many reasons but regardless of the backlash, the two are infatuated with one another.
Because of Audrey's secret, she has a hard time being close to anyone because she feels so much guilt and shame. Throughout the entirety of the book, there is this underlying tension that makes you want to get to the end.
Aside from the well-developed characters and interesting plot, the minor details of the story are somewhat unrealistic. Things seem to fall in Audrey's lap; her internship and full-time journalism job right out of high school, the two house-sitting jobs that conveniently provided her with a job, and her ability to pack up and move across the globe. It is almost too seamless, it feels as though the author had a broad idea of her story and simply made ends meet when it came to the details.
There are also some dark and difficult issues addressed in this book that I feel were taken too lightly and minimized to some extent.
Despite the minimal flaws in the structure of the book and other tweaks that could have been made, the novel teaches an important lesson about the power of words and their impact on people. It touches on the importance of honesty and how relationships can not stand if their foundation was built on a lie.
In the end, Audrey chooses to be with a person who understands and relates to the darkest parts of her. It comes full circle when we realize that the perfect relationship we were tricked into believing was just as flawed as any other. The reason the two are able to stay together is that they know things about each other that no one else will ever know and they cant face coming clean to anyone else.
To some, it might feel like the two settled because it was safe and comfortable, but I felt that it was a beautiful depiction of what true love is; knowing the worst about someone and loving them not in spite of it but because of it.
About the Contributors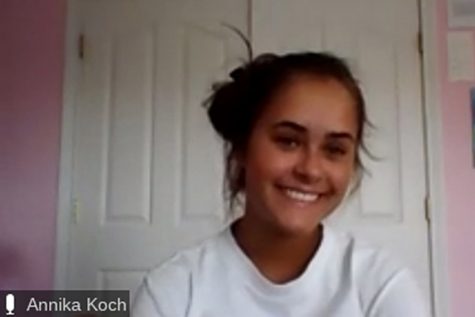 Annika Koch, Business Manager
My name is Annika Koch and this is my third year on staff and second year on the Editorial Board. I first joined this program as a member of the photography...