How to Get Ready for Lexington Comic Con
Comic Cons are where you can find all things nerdy, from Marvel or DC heroes to iconic old cartoons to popular video games and anime.
I have attended Comic Cons since 2013's Lexington Comic and Toy Convention also known as Lex-con. People were dressed up in crazy costumes as my favorite characters, and I later learned the correct term for this is "cosplay." Held at the Lexington Convention Center, the event is held annually in March. This year, the dates are March 9-11.
I like to consider myself a comic con veteran, having attended Kentokyocon, Fandomfest, Ohayocon and Colossalcon, so here are a few things to know about cons.
Con Parents
At cons, there are sometimes older comic-con attendees who are just as nerdy as you. I saw Mrs. Frizzle from The Magic School Bus accompanied by Bill Nye, which was AMAZING. Additionally, there were two guys in full samurai gear, which was rad. You'll see them at almost all the cons you attend and they'll show you the ropes and secrets of the event. They end up being great friends and are often lovingly referred to as Con Parents. I've been adopted by at least three. 
Con Sickness
If you're not careful, you'll get sick right after comic-con and it is NOT fun. Some people love cons so much they will come despite being sick and decide that the casualties are worth it.  I have gotten con sickness twice. Sometimes it's just bad enough you'll miss some school/work. Also, a frequent term used to describe the feeling you get after you leave a con is "Post-con Depression." It's the feeling of missing the fun you had and the desire to go back but realizing you can't because the convention is over.
The Dealer's Room
Here you can whittle away your entire wallet and your bank account goes down to zero. Do you want that Snorlax beanbag? Think again, bub. You'll need to sell your soul if you want that Voltron statue. Your firstborn child? Sold to the dealer who offered you a Stormtrooper backpack. I spent a lot of money on nerdy stuff: a Papergirls comic book, a Rotom Dex and Snorlax plush, a Kigurami (which is basically a gigantic onesie), a cool keychain from artist alley, a scarf from artist alley, and a CROCONANA SHIRT (think of a cat/sushi mix, but with a crocodile and a banana).
Artist Alley
Artist Alley is the tamer Dealers room. Here you can support artists by commissioning* pieces and buying their pre-made art! Some cons (like Ohayocon) say that artists are not allowed to sell fan art, but low and behold, they prevail.
Special Events
Typically, there's a "dance" but it's really a rave, though they're not allowed to call it that. They'll bring in a DJ who will, depending on the con, either play regular dubstep or nerdy songs, like a pumped-up Pokemon or Attack on Titan theme. Either way, everyone is losing their minds. There's also a chance your con could be hosting a drag show or something else exciting like that.
Panels
I could consider panels an event, but these are pretty special. They are usually hosted by a prominent member of the "nerd community" and sometimes the hosts cosplay as the subject character of their panel. Examples of a panel could be "Discussing Spider-man's Love Life" or "The Physics Flaws of Anime". I wish I were joking. Quizzes about your favorite show could even appear in a panel.
What to Bring
Water. If you're dehydrated, your experience will take a nosedive.
Something smart but not really necessary to bring is Ibuprofen or Tylenol. It doesn't matter if you decide to cosplay or not, walking for hours at comic cons will take a toll. But if you ARE cosplaying a painkiller is a must.
A backpack. A wallet. Identification. Easy stuff.
A cellular phone and charger/battery! These are vital, your phone will likely drain as fast as Michael Phelps can swim.
Snacks! Chances are, you'll get hungry. And looking at the lines at the in con restaurants, you'll starve to death before you get to the cash register.
Comfortable shoes to walk in. Can't stress this enough.
Whether it's your first con, or you're a veteran attendee, if you plan ahead and prepare yourself,  you'll have a great experience.
About the Contributors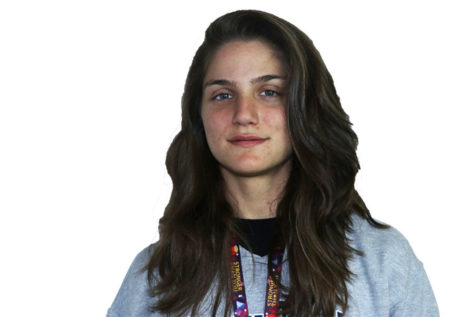 Rebecca Chapman, Staff Reporter
Rebecca is a senior, as well as an artist, feminist, and author. She can't wait for her first year on staff!