Halloween for Scaredy-Cats
'Tis the season for all things scary.  People are getting in the Halloween spirit by planning creepy costumes, watching terrifying movies and participating in events like zombie paintball and Fright Night at Jacobson Park.  But while everyone else is out enjoying these seasonal festivities, there are others who are trying to fly under the radar and hide the fact that they hate being scared.  Here is what it is like to be a scaredy-cat during October.
Getting invited to haunted houses is basically a person's worst nightmare.  While that kind of thing appeals to most people, it is really not enjoyable for those scared of spooky surprises.  Just the idea of stumbling around in the dark while people in masks jump out of the shadows is enough to keep a person up at night.  But then peer pressure kicks in and all there is to do is put on a brave face and stay in the middle of the group, as far away from monsters as possible.
There are plenty of movies coming out this time of year, including many horror movies.  Scary movies are difficult for the people who have to close their eyes as soon as the previews begine
For those that go trick-or-treating (or take their siblings trick-or-treating), walking up to the elaborately decorated houses is stressful.  It is impossible to know when one of the decorations is going to start moving or, even worse, talking.
A visit to Halloween Express is a nerve-racking experience.  At every turn, there is a gory mask or decoration in your path.  The best survival tactic is to take a friend's hand, keep a low profile and get through the store as quickly as possible.
A lot of people that dress in costume prefer to be characters from their favorite horror film, some sort of demon or a version of the Grim Reaper.  Hanging out on Halloween is daunting when someone could jump out at any moment.
However, while there are many things to fear, there are plenty of less scary things to enjoy around Halloween.  There are trips to an orchard, pumpkin carving and Halloween parties, not to mention all the not-so-scary Halloween movies (like It's the Great Pumpkin, Charlie Brown, Hotel Transylvania, and Hocus Pocus to name a few of the greats).  With luck, the Halloween season can be enjoyed without too many scares
About the Contributors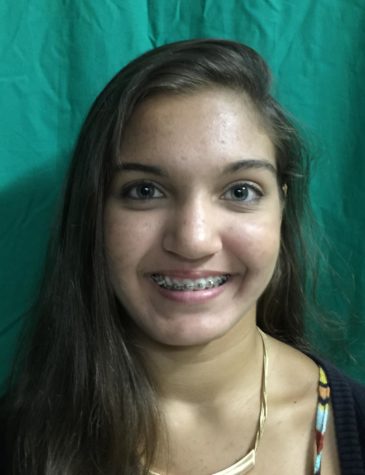 Julia Radhakrishnan, Staff Reporter
My name is Julia Radhakrishnan and I am a sophomore in MSTC. This is my first year on the Lamplighter and I am very excited to be part of such a talented...