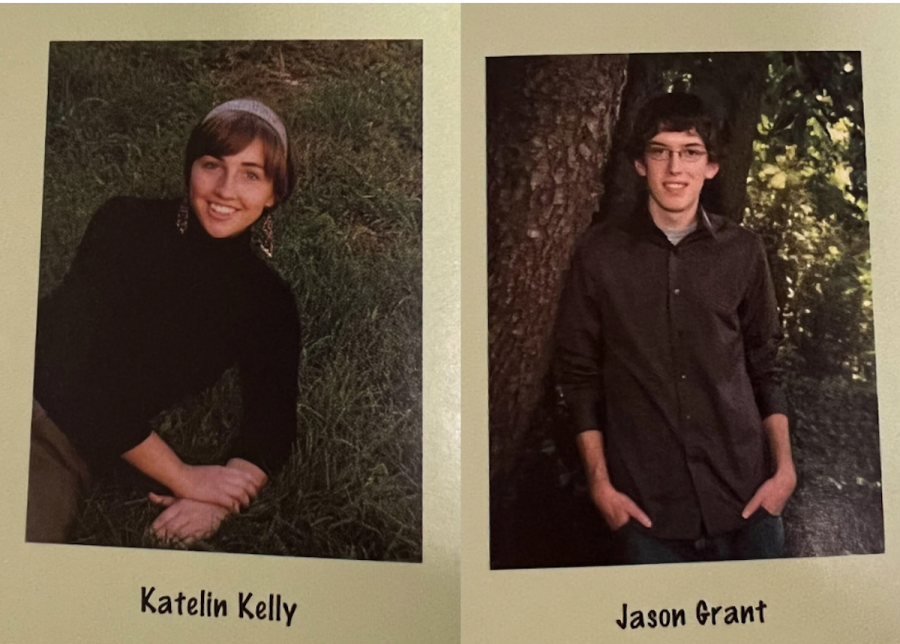 2007
The 2007 Poet Laureates are Kate Kelly and Jason Grant. Their poem is titled "The Hallways Echo: A Dialogue From Those We Leave."
You read me,
flippantly flipping my pages:
Problem sets and glossaries,
Indexes and answers.
I am your study guide.
Every year, your hands
file me away in
Your locker.
I have evolved from cubby holes
To backpacks
To cross-campus lockers
And combination locks
I am printed, bound, shuffled in
a metal sheet of time capsuled knowledge,
And you are close to exiting.
Where are you going?
Where have you been?
Welcome to locker 2003
Turn the lock
05-26-04
There are forbidden elevators that you 
Dance with-
Sinewy steps you take whale peering in
Discovering that there is no third floor
Your mouth gapes open,
Dry from phantom chlorine.
I hold your CDs.
Volume I, page 455, Table Q
Diagrams:
The capitalism of stairwells,
The hierarchy of lunch lines
The process by which you swim
Through hallways
Someone marked blue stars
White stripes
And red that flows
around giant steel monsters-
Tanks and battle arms-
That roll through Middle Eastern streets
And leave
Footprints that will be
Preserved
A reminder of times to come
And decisions you will have to 
Reach
Welcome to locker 2004
Turn the lock 
05-24-05
Turn your hands while keeping them at 10
And 2.
You press down the gas,
You speed through Kansas and Egypt and 
Parking lots
To meet:
Your sixteen-year-old four-wheeled escape.
I support you're locker room stench.
Inside my slit door,
Your gym shoes drip with your grade pulled
Fight within the laces
In health, you squirm at STDs.
Volume II, page 458, Table B
Is a survey to complete:
Watch blurry slideshows with blurry 
Pictures that, blurry, tell you not to do – 
Fill in the blanks with your morals.
Escape your Romeo and Juliet love affairs
And walk down the halls,
a sophomoric Caesar,
Watching your back for Brutus
or Marc Antony-
Their classroom slides are anything but
Shakespeare.
Welcome to locker 2005
Turn the lock
05-26-06
This year- you move
Your masquerade well-planned
as you dance with the stars
(and your prom date)
Swinging in and out of class,
Waltzing across perspective campuses,
And stomping stomping stomping
Across the field in body paint.
I hold you're Mp3's
Volume III, page 452, Table C
Is an outline of you're life:
Bulleted lists reducing everything
you've ever done to numbers
and three-letter-acronyms-
ACT, divided by 36
SAT, divided by 2400
GPA, divided by the rest of your life and 
rounded to the nearest whole.
Welcome to locker 2006
turn the lock:
05-31-07
Turn the combination,
unless it's stuck.
My lock is the only one without glue.
But with every warm breeze, the pranks
subside.
As the humidity rises,
they take down my locks,
and my hinges swing open- free to go.
But next to these doors
These same doors that hold your CDs 
And Mp3's
And DVDs-
You listen to the PA
Telling you the news
The news
The news
Some of you will stay here,
forever memorialized next to lockers.
Students hold vigil
while waiting to exit the doors.
Volume IV, page 459, Table D
Document your year
Finals and admissions letters
The four best pieces you've ever written
Complied and judged like a 
literacy beauty queen.
The bottom of the page fades,
Blank space you'll fill in as you go along.
There are no highlights passages,
No circles,
No punctuationlettersnumbers.
In time,
You will close Volume IV
And fill pages
And books
And the rest of your life.
Today is moving day;
You clean out lockers
2003, 2004, 2005, 2006, 
And 2007 awaits,
With walls,
Combinations
And 459 of you
Leaving
The places your books once sat.
You move everything you own
From these silver walls.
My spine is cracked,
My marks are erased.
And our hinges swing 
Forming a slow wave goodbye.
Tomorrow you will see
A photograph of you smiling
On an oversized black gown.
You'll look back at the photo 
And wonder if you were a child or an 
adult.
-Kate Kelly and Jason Grant
Donate to Lamplighter Media Productions