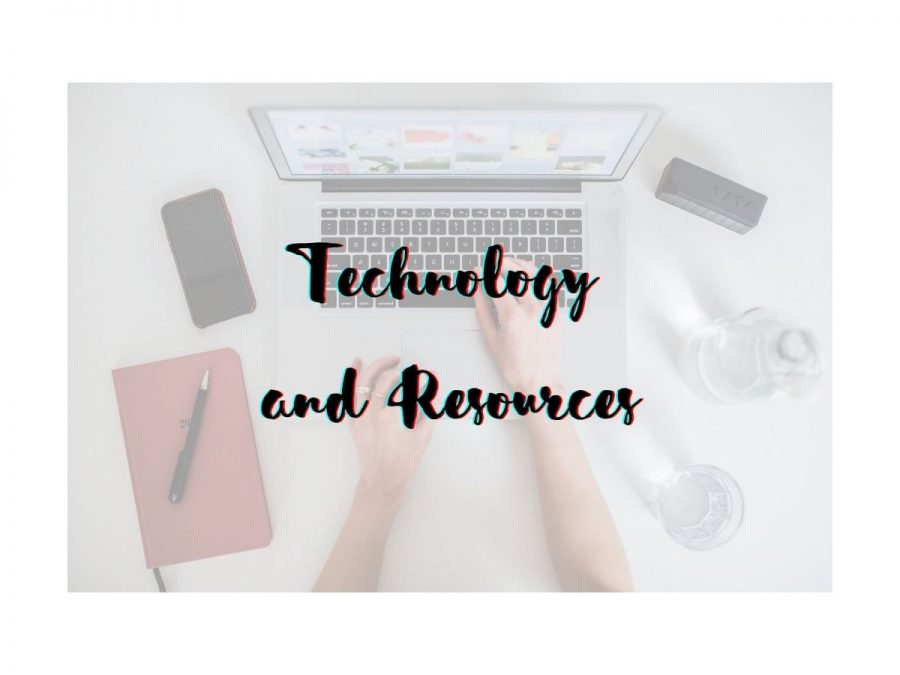 Technology and Resources
With students relying on computers to attend classes and complete assignments, many teachers worry that technology issues will arise. 
"All of us have been looking for technologies to make things work. The issue is cost and availability for the students," Mrs. Goff said. "Most of us have been planning on what if it's just us and a student and their phone."
FCPS recently stated that it will provide Chromebooks to all students who need them and will have hotspots available for families who lack Internet access. 
Still, Mr. Swango is concerned. 
"My biggest concern and I guess we're going to have to figure this out as we go, is the technology problem," he said.
He is especially worried that if teachers are required to host lessons from within the school building, the school may not have enough bandwidth.
On a recent Zoom call with the science department, he said, "some people you couldn't hear at all." One teacher was at Dunbar, and "her [connection] was one of the worst."
"If we're doing this live teaching, Dunbar's network will be 200 teachers all on at the same time trying to teach a class," he continued. "That's going to be a huge problem, and I don't know that the district's ready for that."
English teacher Mrs. Amber Faris plans on teaching from home so that she can also care for her two children. Although she recently upgraded her internet plan, she said that one of her main concerns is still "the internet load," especially when using a Chromebook.
"I know I'm going to be at home with a kindergartener and a fifth-grader trying to do their virtual work and me being live," she said. "So that concerns me, that I'm going to have a lot of technical issues."
Aside from potential connectivity problems, many classes require additional materials that may be unavailable at home. 
Mr. Swango said that he is trying to find effective ways to teach chemistry without an in-person laboratory component. 
If teachers are working at Dunbar, Mr. Swango will have access to the chemicals and equipment necessary to record himself performing labs. He plans on asking students to "analyze the results and look for the errors." 
"It won't be perfect, but it will give them some lab experience that we're not going to be able to get from home," Mr. Swango said. 
"I thought about setting up some 'kitchen labs' for students to try themselves, but I began to think about how they wouldn't have consistent equipment," he added. "They would have measuring cups and measuring spoons and things like that, but they wouldn't necessarily have some way to weigh it, to measure volume." 
For English classes, too, it may be difficult for students to access the required books.
Mrs. Faris said she is "trying to find things that are free or online and still follow copyright laws, which is really hard."
"There's going to be a lot of PDFs," she added. 
Mrs. Faris said that students will be able to pick up Chromebooks and textbooks in an upcoming drive-through, but that she is still concerned about having enough copies for all her students. 
"My budget has been very much slashed in the last couple of years, and then we can't afford to buy these texts right now or give them out," she said. 
Additionally, many teachers only have class sets of certain books — enough books for thirty or so students, but not enough to give everyone a personal copy. 
As a result, she's considering teaching more short stories, nonfiction articles, and essays that are available online. 
This would also help her address the difficulties posed by the recent changes to this year's schedule. The Fayette County Board of Education recently voted to delay the start of the school year to Aug. 26. Dunbar will also not hold regular classes on Wednesdays, instead of using them for CCR classes and "office hours." 
"Doing a full text when you have 30 days of instruction is just rough," Mrs. Faris said. "We're looking at a lot of short texts, things that you can easily do pretty quickly but still have a lot of skills that you can tackle within them."
Donate to Lamplighter Media Productions