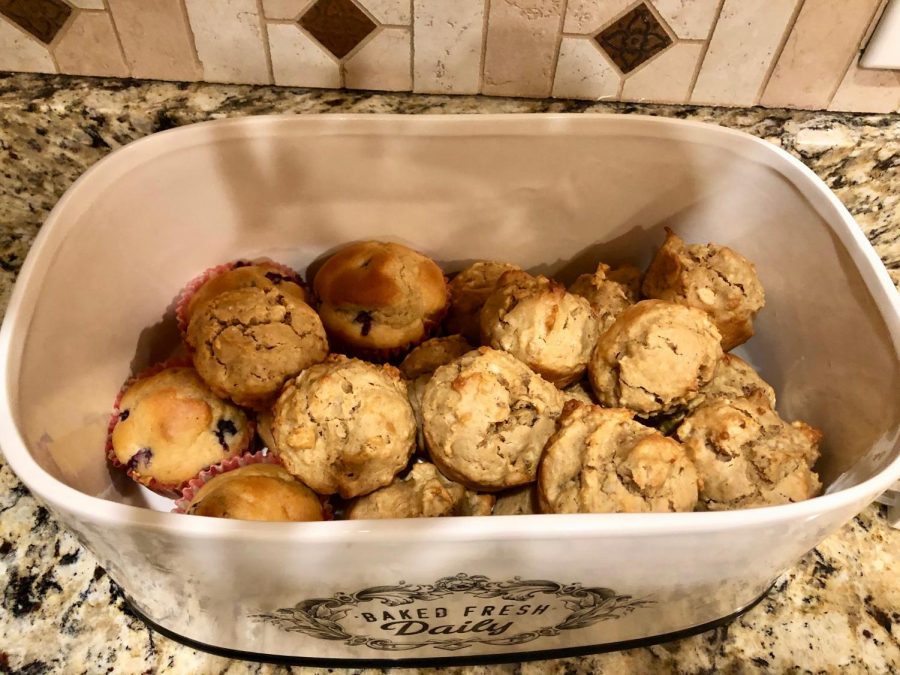 Social Distancing Leaves Time for Baking Adventures
Take a look at some delicious pastries I have made from random foods during quarantine.
It's hard to stay busy while social distancing.
I've spent more time on my typical hobbies: coloring, reading, walking my dogs, annoying my siblings. But after a while, I get a little stir-crazy.
That's why I started baking.
Baking is something I do regularly, but since there are endless recipes out there on the World Wide Web, I never have to make the same thing twice.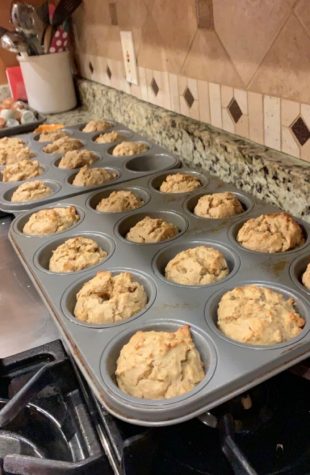 My family is trying to limit the regularity of our grocery store trips, so I have to be conscious of how many frequently-used ingredients I deplete: foods like flour, sugar, chocolate chips, butter, and milk.
Since I am rationing certain items, I like to look up recipes that incorporate random items in my pantry.
For example, one day I noticed that we had a large amount of banana chips –  which is weird, considering no one in my family eats banana chips – so I grabbed the chips and used them as the basis of my recipe. Knowing bananas go well with peanut butter, I chose a recipe for peanut butter chocolate chip muffins, substituting the chocolate chips for banana chips.
The banana chips were much larger than the chocolate ones, so I threw them into the food processor and let the machine do the work, crushing them into smaller pieces.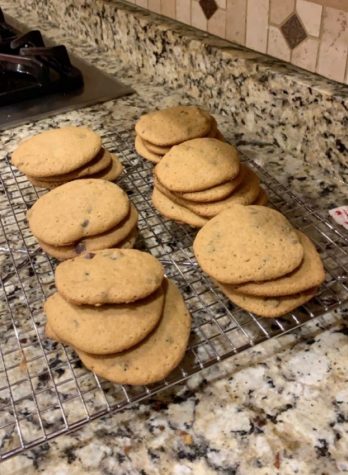 The resulting muffins were quite delicious.
A few days later, I decided to make chocolate chip cookies, one of my favorite desserts.
Taking into consideration that flour is a limited resource, I once again took to the shelves of my pantry, scanning for an alternative ingredient.
Luckily, I came across gluten-free flour left over from a disastrous attempt at making cookies for a friend with a gluten allergy. Those cookies were grainy and absolutely disgusting, but I had nothing better to do, so I decided to try again.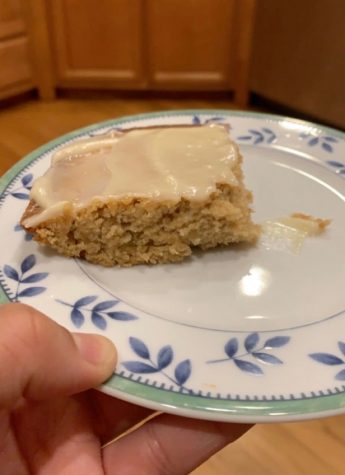 I found a recipe for gluten-free chocolate chip cookies that looked promising, but noticed that it called for xanthan gum. I had absolutely no idea what xanthan gum was, so I returned to the internet and found that corn starch can be used as a replacement.
This time around, my cookies turned out very well. My dad didn't even realize that they were gluten-free.
Even after I used all our banana chips, my house had an overabundance of bananas. Although I sometimes slice bananas to have with peanut butter, they aren't eaten regularly in my house. They all began to brown, so I made many loaves of banana bread, banana blondies with cream cheese icing, blueberry banana oatmeal bars, and chocolate chip banana bars.
In all of these recipes, I substituted applesauce for butter. This trick works well, so long as you cut the amount in half. For example, if a recipe calls for half a cup of butter, use one-fourth a cup of applesauce.
I came across the chocolate chip banana bar recipe while trying to find a way to use coconut sugar instead of regular sugar. The recipe also called for almond milk, helping us conserve our supply of 2% milk.
Trying to bake without common household ingredients has allowed me to be more creative and forced me to think on the fly. It's an activity I wholeheartedly recommend: you never know what rabbit hole it might lead you down. 
Donate to Lamplighter Media Productions