Jack Fitzpatrick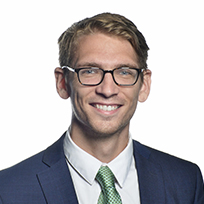 Dunbar and Lamplighter alumni Jack Fitzpatrick is currently located in Washington, D.C. working as a political and policy journalist for Bloomberg Government. He has written for USA Today, NBCNews.com, Slate, and The Arizona Republic, as well as other publications.
"I did an internship at Arizona Capitol Times…once I did that and started writing about politics, I kind of got hooked on it and that inspired me to keep going with it," said Fitzpatrick.
Fitzpatrick credits his success to his school (Arizona State University), his internships, and working hard. He got his current job due to his interest in covering Congress.
"I saw that Bloomberg Government –which was a place that I had a lot of respect for, and I knew that they did very good, thorough work– had an opening for somebody to write about the whole budget process in congress, which appealed to me because it's very broad, it's a big subject, you get to write about a lot of things…and it's also sort of a fundamental role that Congress has," said Fitzpatrick.
His favorite story took place in 2012, when he traveled to Birmingham, Alabama, to cover voting rights issues. In the process, he and his partner became acquainted with friendly convenience store owners who were registering people to vote.
The store owners were so friendly that they invited Fitzpatrick and his partner to church the next day.
"They were very friendly, but they were aware that we were outsiders. The pastor made a big announcement that we were there, and said, 'we have two reporters from Arizona who have visited us and they want to talk to you about your experience voting.' And probably a couple hundred people turned around and stared at us, but then people lined up to do interviews with us on camera and all that. It was a really interesting experience, being in a place where we were outsiders but people still were very friendly and very willing to help us," said Fitzpatrick.
Fitzpatrick became interested in journalism at age 15, in his sophomore year of high school. He joined the Lamplighter staff during Mrs. Wendy Turner's first year of advising Dunbar's school newspaper.
"In her first year she put a lot of effort into it, and it's something that we were all really proud of," he said. "It looked really good every time we put an issue out. I got a real enthusiasm for journalism from Mrs. Turner who I thought really emphasized the importance of journalism and reporting in society."
In his senior year of high school, Fitzpatrick moved to Florida where he attended a school with less of a focus on their student newspaper.
"It almost made me want to keep at journalism, because I had a taste of a really good experience with Lamplighter," said Fitzpatrick.
He encourages students interested in liberal arts to give journalism a try in some capacity, even if they are not sure they want to pursue a career in it.
"It can be a job, but it's also an education in itself, because the job is really learning about things and communicating those things. It's a really good experience to be in a role where you're forced to ask questions and think critically about what's happening in the news," he said.
Donate to Lamplighter Media Productions
Readers are encouraged to voice their opinions respectfully in regards to both the readers and writers of the publication. Comments will be pre-moderated. Posting under a pseudonym is not permitted. Please refer to our policies page for more information.