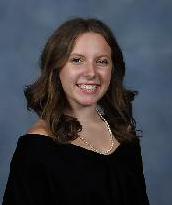 2022
The 2022 Poet Laureate is Aria Daffron. Her poem is titled "Glass Shards."
We've taken our final steps through the glass
around hallways
down secret staircases
We've peered through the windows of the elevator,
looking as we rise and fall
for a final time.
As we prepare for what stands before us,
Raise a glass,
and proudly toast to where we've come.
Previous years marked by exhaustion, loneliness, isolation.
Blurry images flooded our minds
and tried to make us lose our way.
Plagued by periods of constant change and consistent chaos,
thinking to ourselves:
"How could we go on?"
"Will it ever stop?"
Class of 2022,
Beware of broken glass beneath your feet;
it will try to stop you.
Remember the rubble from which you have emerged.
Allow yourself to reminisce on your time here.
Put on the lenses of the past,
peer through the windows,
whether stained,
warped from age,
or crystal clear.
Flip though the slideshow of your life,
and let the images wash over you.
Look in the mirror and do not focus on the broken pieces behind you,
but see yourself as laminated,
strong, sturdy
shatterproof.
As you think of how many years have passed,
or how far away high school feels,
do not ever forget that glass shards are what make you
unbreakable.
–Aria Daffron
Donate to Lamplighter Media Productions