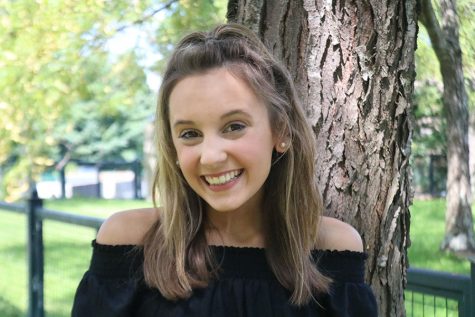 My name is Olivia Doyle. For the beginning half of this year, I was Public Relations Manager. Now, I have taken over as an Editor-in-Chief. I am in my 2nd year on staff and absolutely love what we do. Last year, I wrote articles, photographed games, anchored our on-air broadcast, and created weekly segments. There was always something new and exciting to cover at Dunbar. I joined Lamplighter as a way to express my love for journalism. I love writing, taking photos, and anchoring.  My goals for this year are to help create more widespread community involvement. Lamplighter is Dunbar's source for all things news, I want more students to be involved. My long term goal is to major in broadcast journalism in college and go into a career in the field.
I love to dance and am on the Dunbar Dance Team. I'm also a huge Disney nerd and have an unhealthy obsession with chocolate. I'm a sucker for a good romantic comedy and love listening to music.
I hope you enjoy
Lamplighter
this year and am so excited to share our work with you!
Olivia Doyle, Editor-in-Chief
Aug 19, 2019

State of the Schools Address

(Story)

May 30, 2019

Becoming Editor-in-Chief

(Story)

May 20, 2019

Heartthrob Shawn Mendes Releases New Single

(Story)

Apr 30, 2019
Apr 18, 2019

No Seat at the Roundtable

(Story)

Mar 30, 2019

Teen Climate Activist Sparks Worldwide Movement

(Story)

Mar 25, 2019
Mar 16, 2019

Who was St. Patrick?

(Story)

Mar 01, 2019

Still Fighting for a Voice

(Story)

Dec 19, 2018

PLD in Pictures: Ugly Holiday Sweater Contest

(Media)

Dec 14, 2018

Won't You Be My Neighbor?

(Story)

Mar 19, 2018

Life After Lamplighter: Alumni Stories

(Story)

Oct 26, 2017

Culinary Students Compete in Bulldog Top Chef

(Story)

Oct 09, 2017

Dunbar Volleyball Keeps Up Winning Streak

(Story)

Sep 29, 2017

Leaders in the Making Hosts Original Dunbar Alumni

(Story)

Sep 24, 2017

A Look Back at Homecoming Week

(Story)

Sep 22, 2017

Volleyball Holds Winning Streak

(Story)

Sep 21, 2017

A Look Into the 2017 Football Season

(Story)