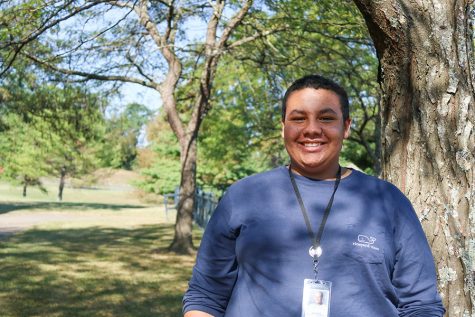 I'm Ben Rains and this is my first year doing Lamplighter. What got me into doing Lamplighter was my brother, Clay. He is a member of Lamplighter and he does geek squad with Matthew Nichols. I would like to explore all parts of Lamplighter, especially broadcasting and writing. I hope to help out geek squad as well.
I'm a freshman and I love to bake and listen to music. My favorite type of music is pop and country but like all types. My favorite color is blue and I enjoy watching the NFL and college basketball. My brother play soccer and I enjoy watching that as well.
I'm excited to get started and explore the different types of journalism and may pursue that as a career.
Ben Rains, Entertainment Editor
Oct 14, 2019

WPLD Oct. 14 Broadcast

(Media)

Oct 07, 2019

WPLD Oct. 7 Broadcast

(Media)

Sep 13, 2019

Book Review: Scythe

(Story)

May 31, 2019

Top 5 Best Fruits for the Summer

(Story)

May 31, 2019

Pie Crust Recipes and Quick Tips

(Story)

Mar 05, 2019
Feb 17, 2019

Barks and Recreation Club

(Media)

Jan 20, 2019

Tabletop Gaming Club

(Media)

Jan 14, 2019

WPLD Jan. 14 Broadcast

(Media)

Dec 10, 2018
Dec 03, 2018
Nov 15, 2018
Oct 22, 2018