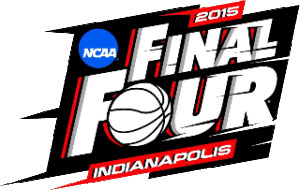 The most exciting time of cable television is underway. March is the most exciting for college basketball players and fans alike. The one that catches America's eye the most would be the NCAA basketball tournament. Sports fans or not, everybody can enjoy the tournament because of the brackets that you can fill out.
No matter what gender you are, what race you are or what your favorite color is, Americans fill out brackets for fun, for competition or to earn money. There are all kinds of bracket pools online or with friends that people enter there bracket in. They do this to receive money or a prize. There is usually a prize for first place, and consolation prizes for second place and third place.
Even if people don't enter a bracket pool, some just like to create their bracket to test their basketball knowledge for the current year.
March Madness is the 4th most watched event in American sports. This year, for companies wanting to earn an advertising spot for just thirty second during the national championship, they'd have to fork out over one million dollars.  This year alone, there will be over 1 billion dollars spent on advertising alone.
Here's the problem for students and teachers; most of the first round games occur early in the afternoon during school. With these early games, comes a lot of chaos and controversy for students and teachers to watch their favorite teams compete.
A question is raised: will the teachers allow the students to watch the games?
Some teachers may not allow their students to watch the games, but students are going to find ways to watch it no matter what. The bigger sports fan teachers will most likely play the games, but the ones that aren't are not as interested and probably won't put on a single game game.
If the Cats play at night, then for the fans watching regular games may not be a huge problem. However, if they play during the school day, controversy may occur.
"We will watch the tournament only if the class behaves," said science teacher Mrs. Kayla Gilvin.
Mrs. Gilvin along with many other teachers around Dunbar express that same opinion, including math teacher Mr. Seth Young.
"As long as our class gets work done, I'll have it playing on the projector with no sound."
This will be the case for most of the classes because there are many teachers who are just as big Wildcat fans as the students, plus for many at Dunbar, UK is their alma-mater.