Naomi Osaka Takes a Stand
Not only did she win the US Open, but she used her platform to help raise awareness in the process.
Naomi Osaka is a three time Grand Slam champion and the No.1 ranked player by the Women's Tennis Association. She recently won the US Open, and she did so while bringing awareness to the Black Lives Matter movement.  
During the seven games of the Women's Singles, part of the US Open, Osaka donned masks with the names of Breonna Taylor, Elijah McClain, Ahmaud Arbery, Trayvon Martin, George Floyd, Philando Castile, and Tamir Rice. These names have come up over and over again as victims of racial injustice and police brutality.
According to TIME, Osaka wore these masks as a way to use her platform to advocate for Black Lives Matter, as well as to protest the racial injustice that has long plagued American society.
This isn't the first time she has used her platform to protest injustice; in August, she announced that she would opt out of the Western & Southern Open semifinals to protest the shooting of Jacob Blake by the Wisconsin police according to Forbes.
"Before I am [an] athlete, I am a Black woman. And as a Black woman, I feel as though there are much more important matters at hand that need immediate attention, rather than watching me play tennis," Osaka said.
The tournament paused for one day as a way of showing solidarity to protest this injustice and resumed play the next day, where Osaka then played in the semifinals. 
"
As a Black woman, I feel as though there are much more important matters at hand that need immediate attention, rather than watching me play tennis."
— Naomi Osaka
Because she supported the movement and used it to bring awareness to race issues, many families of the victims have shown their support for her.
"Naomi, I just want to tell you, thank you for the support for my family and God bless you for what you're doing," Ahmaud Arbery Sr. said. Arbery Sr. is the father of Ahmaud Arbery, who was fatally shot and killed while he was jogging in February 2020.
Trayvon Martin's mother, Sybrina Fulton, also reached out to Osaka, saying that "we thank you from the bottom of our hearts. Continue to do well, continue to kick butt at the U.S. Open."

Trayvon Martin was shot and killed by George Zimmerman in Florida in February 2012 when he was visiting his father.
Osaka was shown these video messages by ESPN after she finished competing. In response she said, "I often wonder if what I'm doing resonates and reaches as many people as I hope. That being said, I tried to hold it in on set, but after watching these back, I cried so much. The strength and the character both of these parents have is beyond me. Love you both, thank you."
While Osaka has received praise for taking a stand and raising awareness, some have told her to stick to sports and to stay out of politics because she is an athlete.
She responded by taking to Twitter.
"All the people that were telling me to 'keep politics out of sports,' (which it wasn't political at all), really inspired me to win. You better believe I'm gonna try to be on your TV for as long as possible," she wrote.
About the Writer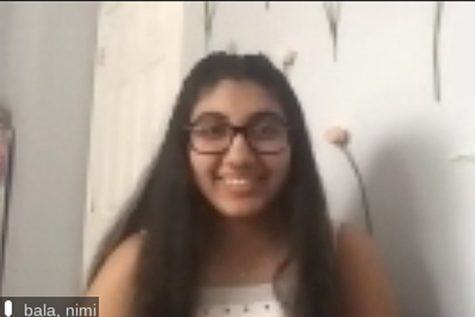 Nimi Bala, Sports Editor
I'm Nimi, I'm a Junior and this is my second year in Lamplighter. I spent my first year as a staff reporter writing some of my favorite articles some...