The 49ers Hit Gold with Katie Sowers
The NFL coach faced prejudice against both women and LGBTQ+ members in professional sports.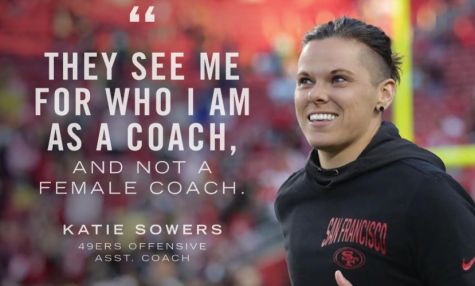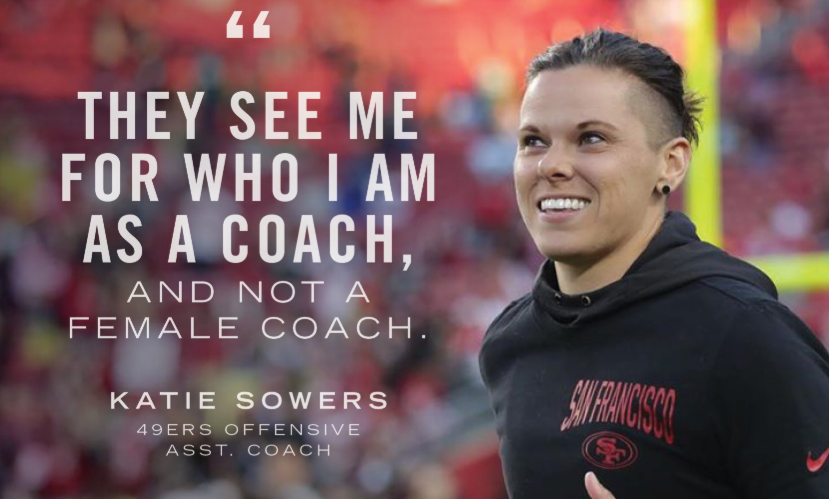 Many sports are male-dominated fields. Which intimidates many women, discouraging them from pursuing a career in athletics. However, Katie Sowers, the offensive assistant coach for the San Francisco 49ers, tackled this challenge by becoming the first female and openly gay coach to lead a team to the Super Bowl.
Although Sower's first love is football, after high school, she went on to play basketball at Goshen College, due to the lack of women's football teams. Sowers was team captain of the women's basketball team, and when her years of playing were over she asked to be a volunteer coach for her former team. Sower's request was denied due to her sexual orientation because parents expressed concerns about their daughters playing under a gay coach. 
Although Sowers was disappointed and upset by this news, she did not let it define her future. Sowers decided to go back to the sport that first brought her joy, football. She went on the play in the Women's Football Alliance for the West Michigan Mayhem and the Kansas City Titans. Retiring from playing the sport of football, lead Sowers on the path of coaching. 
Katie Sowers started her athletic coaching career coaching not football, but basketball where she coached an elementary school's girls' basketball team. Scott Pioli was the father of one of Sowers' players leading to her introduction to the NFL.
Pioli, at the time, was the general manager for the Kansas City Chiefs. When he became the assistant general manager for the Atlanta Falcons he reached out to Sowers, granting her a coaching internship for the Bill Walsh Diversity Coaching Fellowship. 
Sowers' internship allowed her more exposure in the NFL leading her to the 49ers in 2017 as a seasonal offensive assistant coach. At the end of the 2017 season, Sowers officially opened up to the public about her sexual orientation.
With Coach Sowers' help, the 49ers won their conference championship earning them a spot in the Super Bowl. On Feb. 2, Katie Sowers made history at Super Bowl LIV, becoming the first female and openly coach to coach a Super Bowl team. Sowers is a role model for all women and the LGBTQ+ community. 
However, not everyone shares a positive opinion toward Sowers.
Ann Coulter tweeted after the San Francisco 49ers' loss attacking the 49ers staff choice. Coulter's tweet read "Maybe 49ers should reconsider that FIRST FEMALE COACH." 
Sowers tweeted as well addressing her disappointment and realization of the backlash she will receive from Super Bowl LIV.
"I wanted this so for my guys… for my dad. Congrats to the @Chiefs… please as you comment to my players or staff members, remember we are all human. As the @TheEllenShow says, Be Kind. This loss has, unfortunately, reminded me of the hatred in this world." Sowers is helping to create a wider path for women to fit into professional coaching careers, in male-dominated sports.
About the Contributor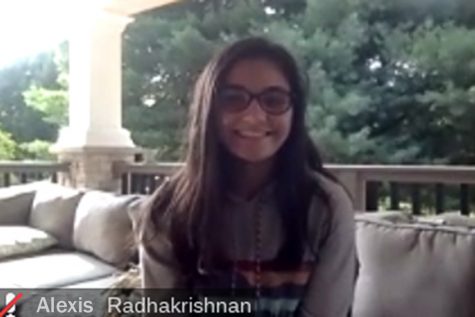 Alexis Radhakrishnan, Staff Reporter
My name is Alexis Radhakrishnan. I am a senior at Dunbar and this is my third year on the Lamplighter staff. I am excited to contribute to the program...