San Jose Sharks' Historic Play
The play was one of the greatest comebacks in all of sports history.
The Vegas Golden Knights upped 3-0 over the San Jose Sharks with 11 minutes left in the third period when the Knights' Cody Eakin delivered a cross-check to the center chest of Sharks' captain Joe Pavelski. After review, Cody Eakin was ejected and the Knights were given a 5-minute major penalty.
Pavelski was left bleeding on the ice after falling to the ice and slamming the right side of his head.
This play will go down in history.
Just six seconds after it began again, the Sharks' Logan Couture sent a wrist shot whizzing by Marc-Andre Fleury making it a 3-1 game. Thomas Hertl didn't disappoint as he deflected a shot from Erik Karlsson, and with Fleury screened by Timo Meier, there wasn't much he could do.
Minutes later, Logan Couture yet again showed up on the score sheet, with a goal making it 3-3. Finally, Kevin Labanc scores giving San Jose the lead of 4-3. Labanc became the first person to ever record 4 points in a single period of a game.
In a span of 4 minutes and 7 seven seconds of power play time, the Sharks took the league with 4 goals. The first 2 came in just around 30 seconds of each other. The Shark's power play unit who had been 4-25 on the series beforehand, came up clutch and turned the game around.
Joe Thornton, a known and respected veteran of the league said about his fellow teammate, "He's the heart of this team, and to see him go down like that and suffer like that–it was heartbreaking for us," Thornton said of Pavelski.
"That power-play unit won us the game, but you know, the boys, they got together and they said, 'This is for Pav.' So we love him. It was just a matter of will, and we willed that one for him."
The players who were motivated to win for their fallen teammate did the impossible and came back from a deficit. They did it for their teammate and captain who obviously meant a lot to the team.
With 47 seconds left in the game, the Knights recovered with a last-minute goal from Jonathan Marchessault with a pulled goalie, taking it to overtime. With just a 1:41 left in overtime, on his second shift of overtime, the Sharks' Barclay Goodrow nets one and sends the Knights home.
This game will be a source of inspiration for many young players. It shows how if you don't give up and continue to strive for your goals you can do anything.
Even though the Knights lost, you have to give them respect for their play. In the years to come, this match-up will become a classic.
As forward Logan Couture said, "That's why [hockey] is the greatest game in the world."
About the Contributor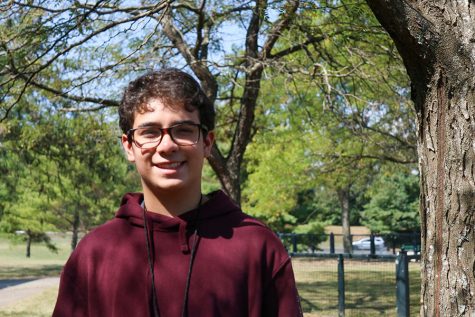 Winston Abedi, Staff Reporter
My name is Winston Abedi, I'm a sophomore at Paul Laurence Dunbar and this is my first year participating in Lamplighter.

I'm looking forward to contributing...