We Got Spirit, Yes We Do?
Pep rally shows that we can bond as a school
From fifth grade to the start of my freshman year, I thought my high school years would be like High School Musical. Not in the sense that there would be spontaneous singing and dancing around every corner, but in the sense that everyone would live for their team like East High lived for the Wildcats. Even the nerds shout back "WILDCATS" if anyone yelled "WHAT TEAM?" The entire student body would get hyped for the championship basketball game with a huge, outdoor pep rally like in the movie when everyone from Sharpay to Taylor is singing "We're All In This Together."
Coming into Dunbar, I was anticipating that kind of school spirit. I could not have been farther from the truth.
Shortly into my first year here, I learned that the idea of "school spirit" was a joke. Pep rallies? Spirit week?  Even supporting athletics? Nonexistent. I didn't attend my first basketball game until well into my sophomore year, and I had only been to a total of three football games until this school year.
Some Dunbar students  simply view sporting events as opportunities to get a little tipsy,  to dress in whatever theme has been chosen by the Dog Pound, and to take an Instagram picture.  It seems that when one of our teams is about to play in a major game, you wouldn't know it by the atmosphere in the school. Game days are just like regular days, except for the fact that you may hear a passing "Wait, is there a basketball game tonight?" in the hallway.
"
The lack of school spirit transferred from the first classes at Dunbar to the late nineties classes
— Mr. Campbell
On March 16, our boys' basketball team is playing in the Sweet Sixteen for the first time since 1997. For a lot of current students, that means before they were even born. After a 29-6 season and a great district win over our rival Lafayette, our boys finally have a chance. And for the first time in almost three years at this school, I thought I heard an inkling of spirit in the halls. A themed spirit week! A pep rally! There are kids here who don't even know what a pep rally is, but maybe, just maybe, this will be what finally jolts some school spirit into the building.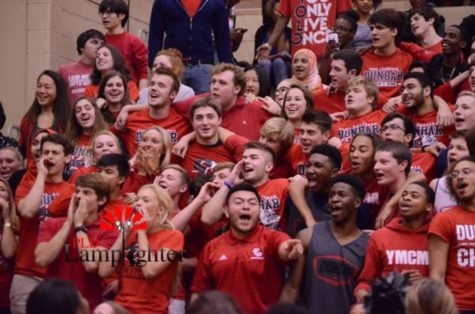 It didn't seem like the spirit was high at the beginning of the week. On Monday, Decades Day: Nothing. A few drama kids show out with leather greaser jackets and scrunchies, and a handful of teachers made the effort, but that's it. It goes without saying that people think the idea is "stupid," but is it really that stupid to support your state-bound team?
This isn't an issue of what changed; it's an issue of what never started. When Dunbar was founded in 1990, equal portions of kids were pulled from the other big high schools, such as Lafayette, and thrown together as one big class. Until a full class had graduated, everyone continued to remain loyal to their home schools. Physics teacher Mr. James Campbell, who graduated Dunbar in 1999, says, "The lack of school spirit transferred from the first classes at Dunbar to the late nineties classes."
Because there was never one cohesive group of Dunbar supporters from the beginning, the idea of school spirit was slow going.
There was a revival of spirit in the 2000's, according to English teacher Ms. Brooke Noe, class of 2008. She came back to teach at Dunbar for the sole reason that, "Dunbar was a family, a place where everyone supported each other. There were hundreds of clubs and activities, and everyone participated.
However, upon her return she found this spirit to be gone. For whatever reason, she said that the spirit that had once filled Dunbar had disappeared. This lack of spirit, while it makes being a student a little boring, hurts no one more than our student athletes.
"
Everything we do kind of feels worthless. No one even knows how we place
— Abby Rawls
It's likely that, unbeknownst to the larger population of Dunbar, other sports programs here are also excelling. For example, the Swim and Dive  team. This year, they won Regionals for the tenth consecutive year, earned second place overall at state, and even have one swimmer, senior Madison Winstead, training for the Olympic Trials.
Their success is incomparable, but did you hear about it? Nope. Not even a halfhearted intercom announcement.
Junior Rachel Fister says, "It's very frustrating when your team performs so well and receives little to no recognition."
Another group is Dunbar Cheer, known around the nation, and arguably the world, as the crème de la crème when it comes to high school cheerleading. Junior Abby Rawls has been a member since freshman year and grew up watching her sister compete with the team. Win after win, championship after championship, she watched as the school barely acknowledged their success. "Everything we do kind of feels worthless. We bring in the most wins to our school out of any sport and nobody cares. No one even knows how we place," she said. "This lack of support is discouraging to our athletes who invest so much into what they love only to get no recognition for it."
However,  the March 15 pep rall shows that there is hope. Some 2300 students gathered in the gym to celebrate the boys' basketball team's success thus far, and to wish them good luck in the Sweet Sixteen matchup against Mercer County.
Students actually participated. Each grade level presented a decade-themed dance to roaring cheers, students played games to try and score Sweet Sixteen tickets, we watched a rousing hype video put together by Lamplighter's own Jack Stokley that got everyone on their feet, and it seemed like students really cared. Now, whether the crowd was just happy to get out of class or they genuinely felt Dunbar pride is up for debate, but it's undeniable that the pep rally was a success.
So, how do we get school spirit back at Dunbar? The success of our basketball program is the obvious answer, as our boys play in the Sweet Sixteen. Support the dogs like you mean it this week, and let it stick. Go along with the spirit week themes (which you can find on our Twitter) no matter how dumb you may think they are, because at the end of the day you are supporting our athletes who have devoted so much to this school.
This opportunity could not have come at a better time, and it's time for Dunbar to finally have a little pride. Go Dogs!
About the Contributors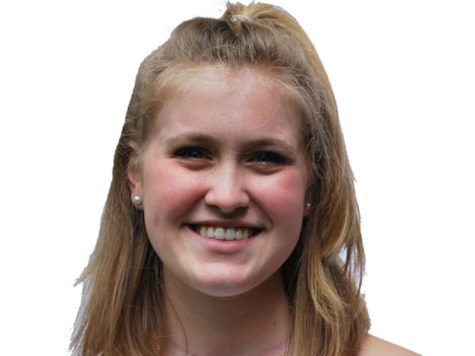 Courtney Brewer, Social Media Editor
Courtney is a senior and the social media editor at Lamplighter. She loves writing, fashion, the SEC, and French bulldogs. "Don't dream it, be it."...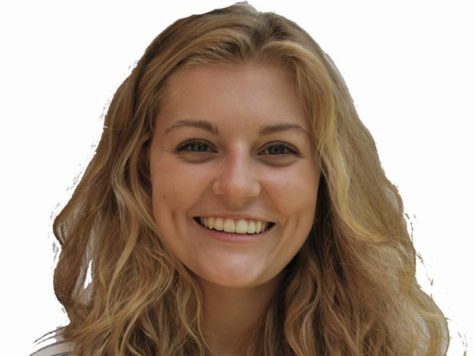 Sydney Carter, Photography Editor