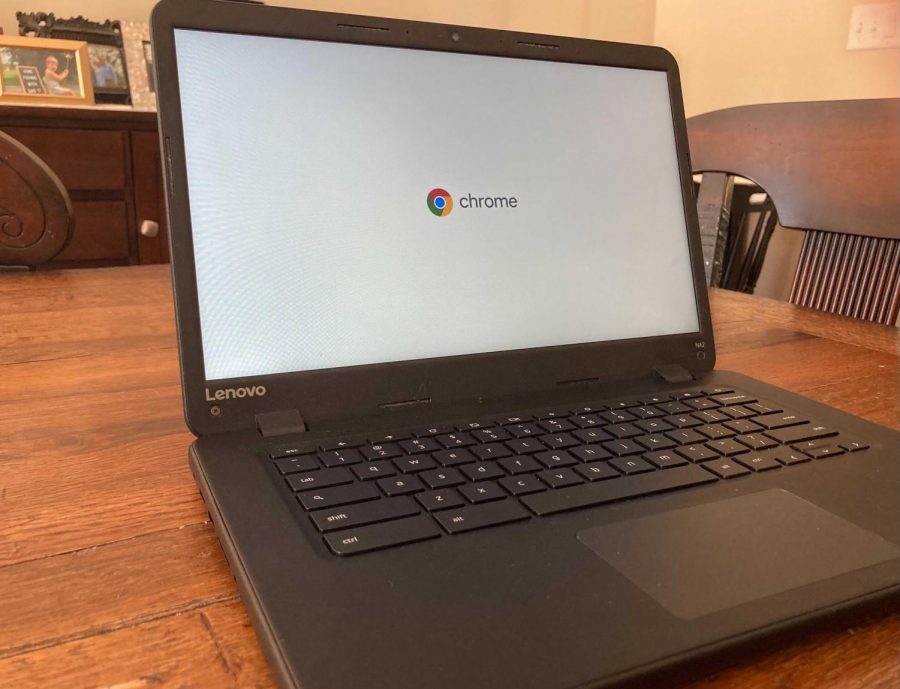 Jack Naehr
Before the beginning of the 2020-2021 school year, students were given the opportunity to request a Chromebook or an internet hotspot in order to be equipped for the upcoming online learning school year. 
A Chromebook looks similar to a laptop but is different because it runs Chrome OS. A hotspot is a portable device that will provide internet access to a Chromebook or computer device. Both of these are essential to students for completing work online.
When classes were in-person, all Chromebooks were shared throughout the school building and were transported on a "Chrome-cart" from classroom to classroom as needed. With online learning, students can no longer share nor transport the school Chromebook supply.
The district's solution to this problem was to provide all students in need of a device or internet with a Chromebook or hotspot. However, providing all students with the materials they needed was a big task which posed a few problems.
Dunbar has been able to provide many students with a Chromebook so far, but as of this month, some students still do not have the devices they need to complete their schoolwork. 
"We have given out around 1050 Chromebooks," technology resource teacher Mrs. Kim Overstreet said. "Right now, we have approximately two students who are on the waiting list to get a Chromebook, and those requests keep coming in, though they have slowed down considerably in the last few days."
Dunbar has to wait for shipments of Chromebooks from the district, but they are shipped out to schools based on the most need.
"When [Chromebooks and hotspots] come in, we will email students and parents with information about how we will distribute those," Overstreet said.
Internet access poses an additional challenge. Without wifi, these Chromebooks are not even useful. Some students may have one or the other, while others have neither. Getting hotspots to students who requested them was a challenge as well, and staff members are still working to provide students with what they need.
"The biggest problem with getting hotspots to students has been shipment delays from the hotspot vendors to the school district. This means that students are often on a waitlist until more hotspots are received," Youth Service Center coordinator Mrs. Shakira Goldsmith-Mason said.
Without a Chromebook or internet access, students have not been able to complete much, if any, school work so far this year. When school started in August, the students without access to these materials quickly fell behind.
"As of today, I still have missing work from week one. I am not still caught up, but I am thankful for the understanding teachers I have helping me," sophomore Donovan Rodriguez Verdin said.
He was able to get a Chromebook before the school year started, but had to return it due to it being defective. While waiting for a new one, the school year started and he missed all the work other students were able to complete. He said that not having a Chromebook also made it difficult for him to communicate with his teachers.
"Students who don't have a Chromebook might not have any form of communication with their teachers or ability to join live sessions and ask for help," Rodriguez Verdin said.
However, many teachers are very flexible and willing to help students who have missed work due to Chromebook or hotspot problems.
"I personally offer several hours of remediation on Wednesdays to get students caught up. I'm easily accessible through the Remind app and email and am very reactive when I get an email from a student in need of help," science teacher Mrs. Keia Scott-Newsome said.
While staff members and teachers continue to work hard to get students the resources they need to be successful, those who still need a Chromebook can request one here and requests for a hotspot can be made here.
"It is literally going to take a village to get students through this very trying time, but we are all in this together, and we will try our very best to make it happen," Scott-Newsome said.