Pro Athletes Protest Against Racism
As protests against racial injustice continue throughout the country, athletes go on strike and join the protests.
Colin Kaepernick, former quarterback for the San Fransisco 49ers, took a knee during the National anthem four years ago to protest the wrongdoings that happen to African Americans and other minorities in the country. He has not been able to play another game after that moment. 
Today, many major sports leagues are postponing their games and leading strikes in the wake so many murders of Black people in the last few months.
"Despite the overwhelming plea for change, there has been no action, so our focus today cannot be on basketball."
This was a part of a statement made by the Milwaukee Bucks on Aug. 26, after they refused to come out of their locker room as a strike against racial injustice. This occurred 3 days after Jacob Blake was shot 7 times in the back by Kenosha police.
Soon after on Twitter, the NBA announced that Game 5 and all of the Thursday games would also be rescheduled. Many are hoping to resume playing the playoffs soon.
Though the strike goes against their contract, the NBA has been showing their support for Black Lives Matter. Teams wear jerseys with the writing such as "Black Lives Matter," "Say Her Name," and "Vote." The NBA also has "Black LIves Matter" painted on the court.
"Eighty percent of NBA players are Black men. We cannot love them for the joy and entertainment that they bring to the world, yet sit in silence and fail to use our platforms and resources to amplify their voices when they demand the justice and equality that America has promised us all but denied Black people for too long," the Lakers said in a statement supporting the Bucks  
WNBA players have also been vocal on many social injustice problems, like LGBTQ rights and racial injustice, since being founded in 1997.
Since the season's start in July, the WNBA has dedicated the season to Breonna Taylor, who was killed by police while she was sleeping in her home in Louisville. 
On Aug. 26 and Aug. 27, the WNBA announced that they would not be playing any games and that those games would be postponed for another day. The WNBA kneeled arm in arm and wore shirts that spelled out Jacob Blake's name.  
"It is important to note that this is not a strike. This is not a boycott. This is affirmatively a day of reflection. A day of informed action and mobilization" said WNBA president and LA Sparks star Nneka Ogwumike.
The Astros boycotted their game on Jackie Robinson day in protest of the Jacon Blake shooting and the racial injustice in America.
Shortstop Marcus Semien and catcher Martin Maldonado placed Robinson's No. 42 jersey in the left and right-handed batters boxes and placed a jersey that read "Black Lives Matter" on the home plate, which was followed by a 42-second moment of silence.
The Marlins and Mets players also placed a Black Lives Matter jersey on home plate before their game on Aug. 27, which was also followed by a 42- second moment of silence before they left the field.
"Jackie did a lot of great things, but I think he'd want more," Astros outfielder Micheal Brantley said. "I think taking a stand and having these conversations is going to help us do more."
About the Writer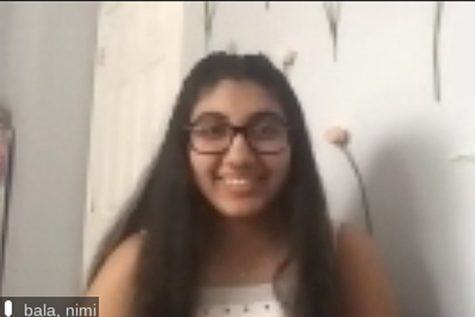 Nimi Bala, Sports Editor
I'm Nimi, I'm a Junior and this is my second year in Lamplighter. I spent my first year as a staff reporter writing some of my favorite articles some...