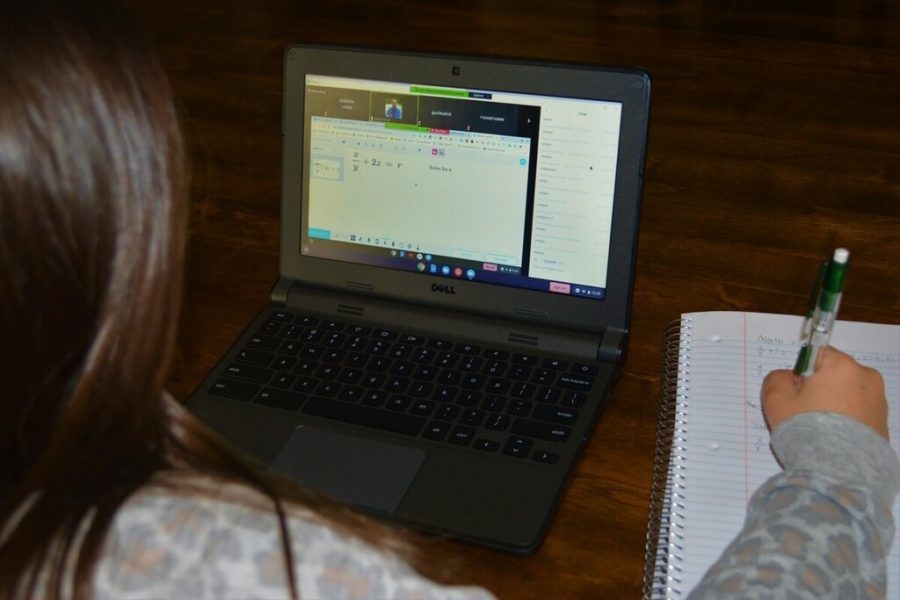 Madelyn Justice
Starting high school virtually is just one task freshmen around the nation have proven to be just another bump in the road. High school can be a time full of fear and worry, and for the class of 2024, this next step in their life has come with both pros and cons.
One of the many things students worry about when switching to a new school is finding their way around. Dunbar is a much larger building than where most students went to middle school. Dunbar holds approximately 2,032 students making it one of the largest schools in Kentucky.
Having school on an online platform eliminates the hassle of learning the ins and outs of navigating through crowds of people in the school building.
"At first I had a lot of worries about navigating through high school because Dunbar is humongous. Now since school is online those fears are gone for now," freshman Ishani Patel said.
After each 90 minute class, the schedule allows five minutes to transition from class to class. With non-traditional instruction (NTI) most teachers end their zoom meetings before the hour and a half mark leaving students with more time to complete assignments and get ready for the next class.
This year's freshmen do not have to worry about rushing through the hallways, instead, they just have to hop on to their next zoom meeting.
"The extra time in between classes has been a huge help to my stress levels compared to the usual five-minute rush," freshman Jack Boyd said. "Now I can go get a drink, go to the bathroom and organize my work in between classes."
With an A and B day rotation schedule, many students find it helpful to have two separate backpacks with their course materials for the two different days.
It is not uncommon for some students to bring the wrong backpack for that day, but with online learning, students do not have to fret since all their supplies are with them at home. 
"It is nice to not have to stress about bringing the wrong materials each day since assignments are pretty much all on Canvas," freshman Claire Angel said.
Contrary to what many considered was going to be one of the worst school years yet, students soon realized it wasn't too bad after all. 
High school comes with many more great opportunities including a variety of clubs and sports. Getting involved as a freshmen allows students to create close bonds with peers, so avhing a virtual year makes it difficult to connect with people.
"Trying to get involved online has been very hard since you do not get the same connection that you would get if you were in person," freshman Ethan Hampton said. 
The class of 2024 has many adjustments. The biggest being the standards-based grading system which many students find it challenging to get used to this system virtually. 
"I am still trying to get used to the new grading system because every time I get a notification in Infinite Campus and it says 5/100 I think I am getting an F but then I remember that means an A," Hampton said.
Starting high school is a huge milestone and the class of 2024 is experiencing this during unprecedented times.
"I'm upset about missing the first actual day in high school and not getting to make friends in person. Instead, it is awkward over a zoom call," freshman Olivia Smoot said.
The class of 2024 is beginning high school like no generation before, and this new form of online learning opens up a door to so many changes, both positive and negative.