What Happens Next?
Since schools closed for the rest of the 2019-2020 school year, is there a chance that we won't go back to school in the fall?
On April 20, FCPS superintendent Manny Caulk announced that school would remain closed for the remainder of the school year.
This announcement didn't exactly come as a surprise. The number of COVID-19 was rising in the county and the state, and it looked like social distancing measures weren't going to ease up any time soon.
Since schools were closed for the rest of the year and it didn't seem like anything was going to open back up anytime soon, I felt sure that we would not be going back to school in the fall, at least not like we had before this pandemic started.
That changed when Governor Andy Beshear announced on May 11 that Kentucky would begin phase one of reopening. In phase one, many retail stores, salons, and factories can open, but not pools, daycare facilities, camps, or gyms.
"
I think all of the measures that we are taking are very productive."
— Mason Taylor
Gov. Beshear stated that before opening, businesses must follow 10 rules.
Does the news that Kentucky will gradually begin to reopen various enterprises in May mean that we can return to school in August?
Many Dunbar students think so.
"Not starting school in August would lead to lots of problems, and COVID-19 [probably will have] died a bit," sophomore William He said.
Currently, COVID-19 cases in Kentucky do seem to be steadying, so it is possible that by August the number of cases will have decreased by a significant amount.
"I think we'll go back to school because COVID-19 cases aren't as high as other states, such as New York, so easing social distancing measures will be easier and be done more smoothly," freshman Sania Bala said. "But I think we'll need to keep practicing safe hygiene like constantly washing our hands and using hand sanitizer, and maybe even wearing masks more often."
Though many students are optimistic, some still have their concerns about how we would practice social distancing measures during the school day.
"Schools like Dunbar are overcrowded, and there would be no way for us to be six feet apart," sophomore Karsen Milburn said. 
Many parents have also voiced concerns about going back to school in the fall.
"
I think there'll be a second wave of COVID-19."
— Connor Sutton
"I don't think we will have schools like we are accustomed to because [a] vaccine by August is unlikely," FCPS parent Heather Horsefall said.
Another parent had a similar worry.
"I don't think kids will be in school in fall, as there will be a possible second wave, and I think it's impossible to keep students six feet apart in school," FCPS parent Harpreet Dhillon said.
With a possible second wave, the uncertainty of a vaccine being produced, and the difficulty of maintaining social distancing measures in school, I thought that it would be near impossible to return to a physical school building in August.
But according to LEX18, the Kentucky Department of Education (KDE) may have found a way to make it possible. They have asked schools to be more flexible when it comes to opening back up.
KDE has come up with three different scenarios. One scenario is an early start to the school year in late July. Another is starting school later in the year, such as after Labor Day. The final scenario is that we have a traditional start to the school year in August.
At this point, I feel like we have a 50/50 shot at opening schools and going back to a traditional way of learning.
About the Contributors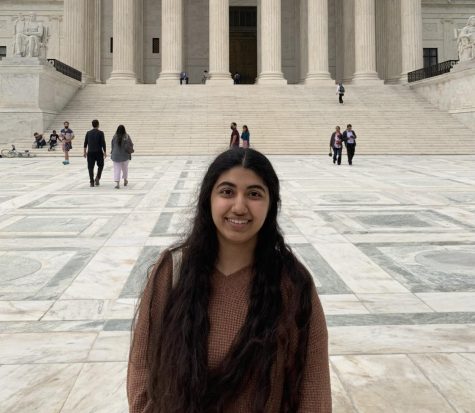 Nimi Bala, Editor-in-Chief
Hi! I'm Nimi, I'm a senior and this is my third year in Lamplighter. This year, I am one of four Editors in Chief for the program. I spent my first...