Shadowing Kaylee Hartung of SEC Nation
As long as I can remember, SEC sports have been a tradition in my house. I've missed only a few home football games since I was three, I'm up at 8AM on Saturdays for pregame coverage and I've stayed up until the early hours of the morning watching overtime games. I'm that girl who, when she says she's going to the UK game this weekend, will be there until the last second of the fourth quarter and not just leave as soon as all the tailgates have winded down. SEC sports, specifically football, are in my blood.
One of my favorite things about gameday is getting up early to watch all pregame coverage on SEC Nation, a touring show that visits different campuses each week to highlight the game going on there. On the morning of the game, the broadcasters talk about everything else happening in the SEC – it is essentially a Southern version of College Gameday. It features sports radio host Paul Finebaum, former Florida player (and national heartthrob) Tim Tebow, sportscaster Joe Tessitore, former Alabama player Greg McElroy, former LSU player Marcus Spears and reporter Kaylee Hartung. Being the only girl in the crew, I have always admired Kaylee. She is a female in the sports industry who got to go around the South talking about sports and meeting all of the big names of the SEC. Can you say goals?
So imagine my shock when I'm sitting in Mr. Campbell's Physics class and I get a text from my dad that he is sitting behind Kaylee, my idol, on a flight. Imagine even MORE shock when he gets home that night with her business card in hand, saying that, if I emailed her, I could potentially shadow her when SEC Nation came to Lexington. My emotions were basically some combination of the shocked-The-Scream-painting emoji and the upside down face, so when it was announced that SEC Nation would be coming to UK for the Tennessee game, I immediately sat down and emailed her. She emailed me back a few days later saying she would love to have me shadow for the game, and I would be able to meet her around nine at Commonwealth Stadium. And so the week of trying to find my chill commenced.
Saturday morning I woke up bright and early to be at Commonwealth by 9 (and to get a trenta from Starbucks). Kaylee's producer Brooke met me to give me my credentials and took me back to the bus to meet up with Kaylee and the rest of the crew.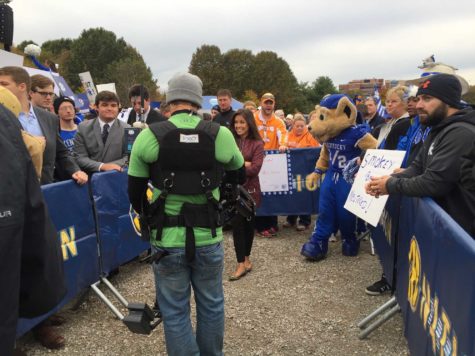 Kaylee welcomed me with open arms and introduced me to the team. Tim Tebow was first, who is just as gorgeous in person as he is on TV, and was so nice to me. Marcus Spears, alum of LSU, shook my hand and made me feel the size of a garden gnome. Everyone was so relaxed and carried on regular joking conversation, as if they had no idea the amount of people waiting for them outside and at home.
I sat in the bus with Kaylee and Brooke, as Kaylee furiously typed on a MacBook doing research for one of her segments for the day. She asked me about school, what colleges I was looking at and how I felt about UK's chances up against Tennessee. Then it was time to go out to film live segments. The crowd lost it at the sight of Kaylee, both boys who wanted to date her and girls who wanted to be her. And the craziest thing? She didn't even flinch. This was routine to her, and she kept walking to take some selfies and talk to fans.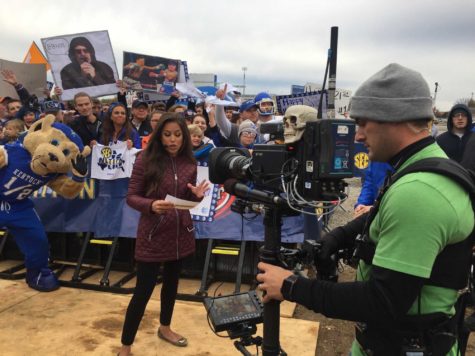 I continued to walk around with her as she filmed different segments, standing to the side as she shot a quarterback feature with Jesse Palmer and Tim and a social segment in the back of the bus. It was all so casual how she moved from piece to piece, all while downing coffee and booking her flight to the next location literally seconds before going on air. It astounded me at first, but then I remembered that this is her normal, traveling around the biggest cities in the south and interviewing the top coaches and players in sports, which to me seems like a dream job.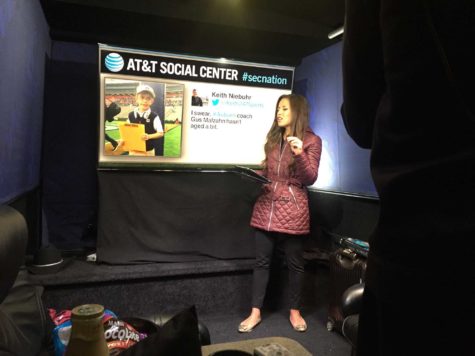 Aside from initially meeting everyone, I didn't have a lot of what-the-heck-this-is-actually-happening moments throughout the day. Until I stepped on the set for the first time. After sitting in the bus talking to Brooke and Matt The Bus Driver (capitalized due to his minor cult following), Kaylee put her coat on and said "c'mon, let's go up to the set." By this I thought she meant I would stand to the side again and watch. Oh was I wrong. She walked up onto the fake-grass set and prompted me to follow, and my heart actually skipped a beat. This was the set I had watched every Saturday in the fall for the last two years, a set I had dreamed of appearing on one day, and I was right there watching it all play out as fans screamed and held signs below. It can only be defined as surreal, like walking on the field of your favorite team or stepping onto a stage for the first time.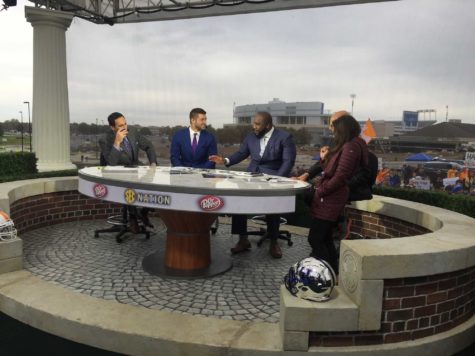 The show came to a sad end at noon as Kaylee frantically gathered her things to make a 2:00 flight. Set pieces started to come down and mics were taken off as the crowd of fans slowly dispersed. We took a quick picture, she hugged me, and she told me to email her if I got wind that she would be coming to Lexington during basketball season. And just like that it was over; I jumped into the photo line and tried to wrap my brain around the day I had just had.
The biggest thing I learned from the whole experience is something my dad has told me since I was 13: act like you've been there before. I was rubbing shoulders with the biggest names in sports as they talked on the fly and casually met fans screaming for them, and they did so as if it was nothing. This is their average life, and to me that seems like a pretty great job. The whole day made me realize that sportscasting may just be what's in the cards for me, and I have Kaylee Hartung to thank for that.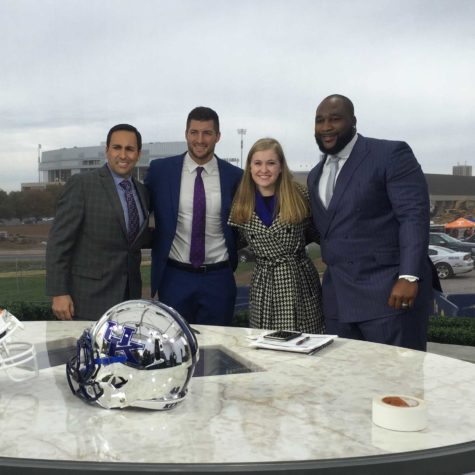 About the Contributors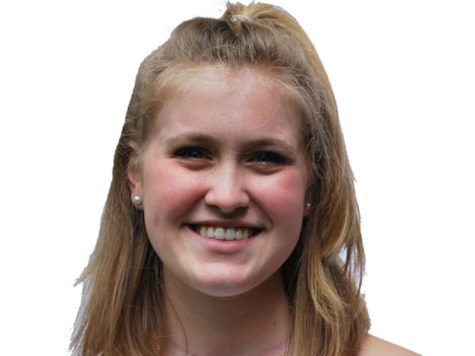 Courtney Brewer, Social Media Editor
Courtney is a senior and the social media editor at Lamplighter. She loves writing, fashion, the SEC, and French bulldogs. "Don't dream it, be it."...