This will get you ready for YOUR college interview
Read about my experience being interviewed by an IVY League along with tips for how to prepare and what to expect!
There's nothing more stressful for graduating students than the idea of college. Where do they want to go? What scholarships should they investigate? What college is the best fit? Without a doubt, stress is on the rise.
When I recently applied to college, I thought the stress would have ceased after clicking the submit button. However, a couple weeks after I submitted the application, I checked my email and came across a delivery from some stranger I did not know.
Not realizing what was about to hit me, I open the email and there it read, "___ has forwarded your information to me for purposes of conducting an interview for your application…"
Reacting how anyone would react, my heartbeat immediately skipped to 90 beats per minute and I wanted to hide and never leave my room. My head rolled with questions like: What will I say when they ask me why their college? What should I wear? Should I even reply to the email?
Step one of being best prepared for a college interview is picking the right place for the interview. Choosing between a coffee shop and a library should be an obvious winner. Some may have different opinions, but my opinion lies in a quiet and comfortable environment; a library.
Distractions can easily be detected from the interviewer's perspective in louder areas, like coffee shops. Customers walking in, music, multiple conversations are distracting and can make the interviewee perceived as not being involved and interested in the conversation. While in a library, quiet rooms such as conference rooms, are available for good conversations.
I was interviewed at the Beaumont Public Library in the late afternoon. I thought it was more convenient and allowed me more time to dress to impress and prepare my words.
Step two was picking the right outfit. The most common advice I received for what to wear was a dress. I thought to myself that I would rather dress formally but add in my style, "preppy hippie." My goal was to stand out and by dressing for myself instead of others was going to get me to my goal.
I chose to wear loose, patterned pants along with a nice white-tied dress shirt, comfortable but classy. I wore my hair in a wavy half-up half-down bun, and I had on my pleated white slip-on shoes.
In my opinion, step three is the most important. It includes the Q&A section, which is something I tend to struggle with. As much as I hate presenting in front of the class at school or giving a speech at a banquet, practice does make a difference.
One question I was asked was why I chose that college, a classic interview question. I immediately thought back to how I even heard about the college. Family friend? Family tradition? Dig deep. I would then research the website the college has. Look for specifics.
In my interview, I mentioned a blog Q&A located under the college's website. It talked about the college providing a balance of academics, extracurricular activities and a sleep schedule that allowed time for Netflix. Although the response may have been cheesy, the laugh from my interviewer made it all worth it.
At any time of this conversation, toss in scores and GPA. No one likes a braggart but at the end of the day, the interviewer needs to know strengths and weaknesses. These tips should give the interviewer time to grasp onto tiny information and branch off into new conversations.
I was also asked to tell my interviewer about myself. To me, this may be one of the most intricate questions a college interviewer can ask. When asked to talk about who I am, I knew I had to focus on the most important ideas. This was my chance to talk about me, and not just my application.
I chose to discuss dance, my dog and a genocide research project I did during my junior year. Because I was so comfortable with each topic, this part of the discussion was a piece of cake. The interviewer wants to know what the interviewee is like outside of academics because personality is also one of the most important things they look for.
Even though these two questions seem to be short and easy to answer, they were the only questions asked in my interview. These simple questions branch off into many little conversations you can use to your advantage to add more personality and information about yourself.
In the end, the best is all that can be done. Remember that interviews can only help applications, not damage them.

Hang on for a minute...we're trying to find some more stories you might like.
About the Contributor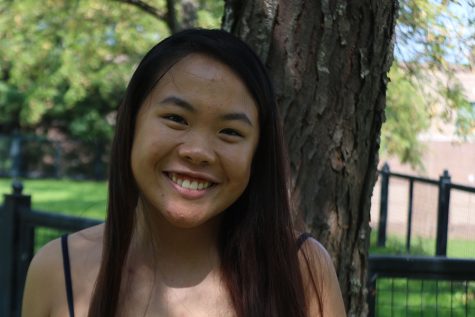 Sandy Tang, Social Media/Technology Editor
My name is Sandy Tang and I am currently a senior at Dunbar. I will be the social media/tech editor as my first year on staff! I joined Lamplighter my...