Are Group Projects Beneficial?
The advantages and disadvantages of group assignments
Are group projects beneficial advantage to students? Although some say it is hard to work collaboratively with peers, others enjoy group work and find it helpful.
PLD Lamplighter's Instagram account hosted a poll to followers asking if students found group work beneficial. Of the 177 responses, 66% said they did.
"It is helpful to share my opinions and ideas about the project with a group of people and get feedback," said sophomore Ben Crocket.
Group work helps students become career ready as well. Among the many different fields of work, an estimated 80% of people work in a setting where group work skills are necessary, according to the International Journal of Teaching and Learning in Higher Education.
"You get to know people and get the work done faster," said sophomore Camry Dryden.
And it's not just students. Some teachers also found group work to be a beneficial teaching strategy.
"I would say the main reason teachers assign group work is because part of our job is to teach you how to interact in society once you leave this building," said English teacher Mrs. Amber Faris.
Mr. Daniel Janbakhsh, another English teacher, said that although he thinks it is important to learn how to work with others, he finds group work to be very difficult for students to work together outside of class.
"I am not a fan of group projects because of communication issues," he said.
There have been many academic studies on the benefits of group work, and the positions of these studies are varied. He's not alone in his positive impression of group work. Some studies show that students attain information better, and have greater problem-solving skills by working with other students.
Others, however, see significant deficits in these types of assignments.
Larry Michaelson of the University of Oklahoma researched, reviewed and wrote a book about the impacts of group work. He said that the group project most likely to fail is a group paper due to the fact that writing is an individual activity.
Students have also expressed their frustrations about working with classmates rather than just completing assignments individually.
"Oftentimes we have too much time so we aren't very productive, and this creates a lot of poorly done products," said junior William Ding. "We just socialize for most of it."
Students may also have a difficult time communicating criticism with friends, and it can be even harder for them to communicate in a group project with students they don't know well. Also, in projects where teachers employ collective grading, it's inevitable that certain students will do the majority of the work while others in the group do nothing.
"I think it's really unfair sometimes," said junior Kelly Vargas. "I don't like doing all the work by myself and then seeing other people get the same grade."
The benefits of group work can outweigh the downsides, especially if teachers are selective about who they put into a group, and if they make arrangements to grade students not as a whole, but based on their individual contributions.
About the Contributors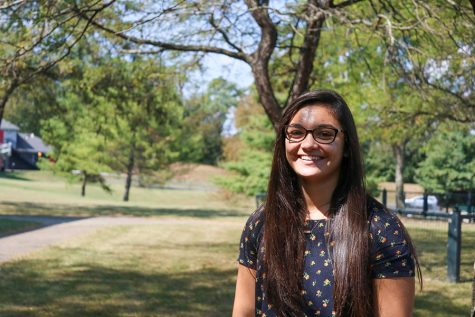 Alexis Radhakrishnan, Staff Reporter
My name is Alexis Radhakrishnan and I am a Junior at Dunbar.  I am on the varsity dive team and am a gymnast at Agility Gymnastics in Versailles. This...