Trump's Views on Media From a Student Journalist
Freedom of the press is something that protects journalists, like me. It allows us to write or talk about anything we feel is important without being sued or getting in trouble. Without that journalists would crash and burn. Nothing could be written or spoken if this amendment wasn't in place without major consequences.
The first amendment states, "Congress shall make no law respecting an establishment of religion, or prohibiting the free exercise thereof; or abridging the freedom of speech, or of the press; or the right of the people peaceably to assemble, and to petition the Government for a redress of grievances."
On Aug. 16, President Donald Trump tweeted a series of tweets starting with, "THE FAKE NEWS MEDIA IS THE OPPOSITION PARTY. It is very bad for our Great Country…. BUT WE ARE WINNING!"
He continued with, "The Boston Globe, which was sold to the failing New York Times for 1.3 BILLION DOLLARS (plus 800 million dollars in losses & investment), or 2.1 BILLION DOLLARS, was then sold by the Times for 1 DOLLAR. Now the Globe is in COLLUSION with papers on the free press. PROVE IT!"
Trump ended by saying, "There is nothing that I would want more for our Country than true FREEDOM OF THE PRESS. The fact that press is FREE to write and say anything it wants, but much of what it says is FAKE NEWS, pushing a political agenda is just plain trying to hurt people. HONESTY WINS!"
"During Trump's presidential campaign, supporters at his rallies were regularly told that journalists were liars or establishment stooges – in the pocket of big business or other supposed opponents of the Donald. No wonder that media representatives covering those events were frequently harangued or hassled by the Trump faithful," The Independent UK wrote.
Trump claims that some of the most reliable sources, CNN and NBC, are fake news. Both are sources journalists use for evidence and pull quotes from them.
Fake news isn't a myth, it's quite real. In Nov. 2016, CNN Money reported a fake news story from ABC News. Linsey Davis, the reporter from ABC News, told a story about a 30-year-old woman was being held captive by a registered sex offender who allegedly had her in a storage container. From a TV point of view, it's impossible to tell where the police tape ends, until you see a picture of the real scene.
In the picture, it's visible that there's police tape but it's on tripods.
"This action is completely unacceptable and fails to meet the standards of ABC News. As soon as it was brought to our attention, we decided to take the producer out of the field and we're investigating further," said Julie Townsend, vice president of communications, told CNN.
The whole point of news is to get things that happen in the world out there, so news being fake isn't something that happens frequently. Most news sources are trustworthy and don't lie because it weakens their credibility.
As a journalist, this was offensive. True freedom of the press is about news and journalists covering what they believe is important.  In a world without freedom of press journalists would be extremely limited on what they would be able to cover. It would almost be like news didn't exist. Journalists could get in major trouble for covering anything people didn't like. 
When I write articles, I know that they might be controversial, but I also am aware of the fact that I'm protected under this amendment and I'm able to write about it. The news is one of the most important things in this world, it's how people get information and know what's happening in their world. Without news, we wouldn't know about things like shootings, bombings, politics as quickly as we do. With news, most people know within a day of things that are happening and that's extremely important.
Trump might not like what is being put in the news because it exposes him. If people didn't know about this, would they really know who their president is?

Hang on for a minute...we're trying to find some more stories you might like.
About the Writer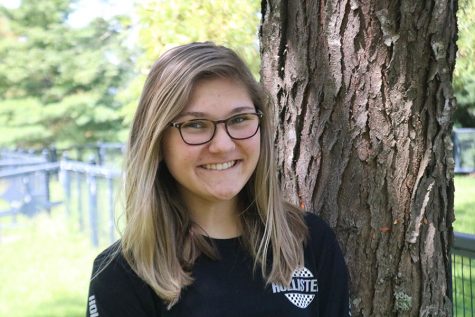 Hannah Chambliss, Writing Editor
My name is Hannah Chambliss and I'm on the Editorial Board as well as writing editor. One of my favorite things to do is write. I've been writing ever...