Not Bad Dogs, Bad People
Despite their reputation, pit bulls are actually loyal household pets. Their aggressive nature is a byproduct of abusive care.
According to the American Veterinary Medical Association, 36.5% of American households have one or more dogs. That's over 44 million dogs in total. These dogs range from Yorkshire terriers to Labrador retrievers. Within this span, lie pit bulls which have a bad reputation for being mean, aggressive dogs. However, nothing could be further from the truth.
In reality, they are extremely loyal, amazing with children, enjoy pleasing their owners and are very athletic. This breed has the patience to deal with children and is extremely affectionate towards their owners. They also love exercising, which is great if you like taking walks or being outside. They're amazing in agility and need their daily exercise. However, if they feel that their owner is threatened or in danger, they will often react to protect.
Unfortunately, many people choose to only see the threatening side of pit bulls and ignore the qualities that make them incredible household pets. In fact, in the early 20 century, they were thought highly of as family dogs, military heroes, and mascots. During World War One, pit bulls were used to represent American forces in propaganda. The loyalty and bravery these dogs have made them the prime choice for a "spokesdog."
The negative perception of pit bulls stems from closemindedness. People take one person's experience with a certain animal and extrapolate that to an entire breed. Pit bulls can be loving dogs, but it all goes back to how they are raised and the environment they live in.
In 1976, Congress outlawed the interstate promotion of animal fighting.  The penalties were up to a year in prison and a fine of $5,000. However, in 2007, Michael Vick, Tony Taylor, Purnell Peace, Quanis Philips and Oscar Allen were found guilty of dog fighting in Virginia.
According to Animal Legal Defense Fund, Vick's cousin was arrested on drug charges and gave the police Vick's address. When they searched his house, they found probable cause to get a second search warrant for animal cruelty and dogfighting. There they found around 70 dogs, 54 of which were pit bulls, that had scars and injuries. Half of them were chained to car axles and barely out of reach of each other, which is normal for dogfighting. The rest is too graphic to include here, but to say it was the dog version of hell is an understatement.
The dogs were extremely aggressive and could not all be safely evaluated. Judge Henry Hudson ordered the dogs to be killed, but a group of advocates convinced Hudson that these dogs should be given a second chance, according to Huffington Post. The dogs were evaluated one by one, and if possible, rehabilitated and adopted.
There was only one dog that was euthanized due to aggression.
One of those pit bulls, Ray, was rescued by Jacqueline Johnson. She was so passionate about this dog that she and her husband moved so they could legally own Ray. Sadly, he passed away a little over three years ago. She wrote in a blog post, "I never, ever felt as if Ray were just our dog. From the very beginning, he showed that he was more than just a pet. It was as if he felt he had a mission to meet and touch as many people as he could."
Scotlund Haisley, who helped care for and rehabilitate some of the dogs, said, "Extensive misrepresentation of the nature of pit bulls is not merely unfair, but also has regrettable consequences."
Pit bulls aren't bad dogs. Like people, their upbringing influences their behavior. When people mistreat animals, those animals more than likely end up becoming aggressive. But with a little bit of help, that can be reversed.

Hang on for a minute...we're trying to find some more stories you might like.
About the Writer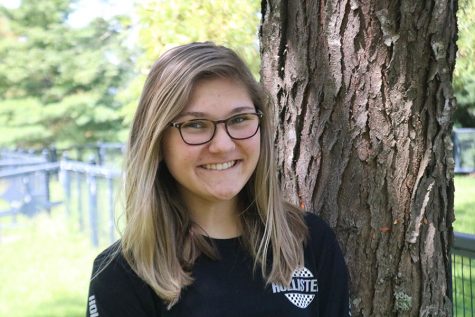 Hannah Chambliss, Writing Editor
My name is Hannah Chambliss and I'm on the Editorial Board as well as writing editor. One of my favorite things to do is write. I've been writing ever...