Charter Schools Abuse Lack of Regulation
One thing is clear: charter schools' lack of regulations creates more problems.
The first charter school law was passed in 1991 by Minnesota and 3.1 million students are enrolled in charter schools across 43 states. Yet, a surprisingly low proportion of people have a basic understanding of this system. According to NPR, 48% of Americans didn't know that charters were public, 57% thought they had a tuition and almost 50% thought they could teach religion.
I have never attended a charter school, nor do I know anyone who has. I have only ever attended public schools, which do have their fair share of similarities to a charter. They are free, have state funding and cannot legally discriminate against students.
However, charter schools are different from public schools, in the sense that they receive less funding and receive money on a per-pupil basis and could receive private funding. Public schools are paid primarily through the state budget and local taxes.
The alternative teaching styles of charter schools can be beneficial for kids who don't enjoy sitting at a desk and taking notes every day. With smaller class sizes, it's easier for kids who need extra help to get it. The teacher also gets to bond with the students and their parents, which is something that doesn't happen often in public middle and high schools. Charters also experience fewer disciplinary problems than traditional schools.
Private schools are also similar to charter schools to an extent. Private schools don't necessarily have a guideline to follow when it comes to a curriculum, and, like many charter schools, often enforce uniforms and tuition. Charter schools have a versatile system for curriculum, but all student are held liable to a performance contract. They also must meet standards to have secure state funding.
As of late April, charter schools have started to generate negative attention.
On April 30, 2018, the Huffington Post released an article about the Noble Network of Charter Schools in Chicago, which are so restrictive that girls bled through their pants during menstruation because they were not allowed to go to the restroom. To address the problem, "the school system is now allowing girls to tie their school sweatshirts around their waists." While that physically hides the problem, it doesn't deflect the humiliation factor.
The president of the network, Constance Jones Brewer, said, "Noble absolutely accommodates our students during menstruation, including bathroom trips whenever the student needs one. This is the same accommodation as high schools everywhere and I would tolerate nothing less from my organization."
The problem with this statement is that if it was truly accommodated, then it wouldn't be a repeated offense. They would change their hall pass policy, not just change the dress code.
Controversial practices in charter schools do not end there.
At Great Hearts Monte Vista in San Antonio, Texas, a charter school teacher assigned eighth-grade students to list the positives of slavery. The teacher said it was in order to give a "balanced view."
One of the student's fathers, Roberto Livar, posted a picture of the worksheet, "The Life of Slaves: A Balanced View." On the worksheet, his son responded "N/A" to the positives of slavery. After this spread through social media, Livar told the Huffington Post that his son has been under attack by others at his school for hurting its reputation. Rep. Joaquin Castro (D) said in a tweet, "This is absolutely unacceptable… The teacher worked from a @pearson textbook."
When looking for the requirements to work at a Texas charter school, the Texas Classroom Teachers Association states, "State law does not require charter school teachers and principals to be certified, except in the case of teachers assigned to teach in special education or bilingual programs, in which case the appropriate state certification is required. State law also requires open-enrollment charter school teachers and principals to have a baccalaureate degree. Charter schools must perform criminal history checks on prospective employees and volunteers."
These are just two examples of inappropriate conduct in charter schools. They may have their advantages, but it's hard to trust a school system that is so unaccommodating as to cause girls to bleed through their feminine products or allows teachers to operate freely to the point of weighing the benefits of slavery. In sum, charter schools are at too high of a risk for mistreating students without the regulations enforced in public school systems.

Hang on for a minute...we're trying to find some more stories you might like.
About the Writer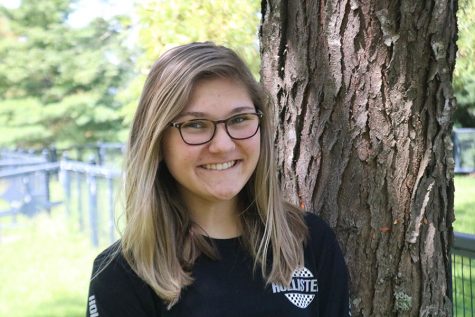 Hannah Chambliss, Writing Editor
My name is Hannah Chambliss and I'm on the Editorial Board as well as writing editor. One of my favorite things to do is write. I've been writing ever...