Students Adjusting to New ID Policy
This year, Dunbar is implementing student IDs, which are required to be worn at all times.
From the Marshall County shooting, Dunbar receiving threats and someone from Fredrick Douglass accidentally shooting himself in the hand, Fayette County Superintendent Emmanuel Caulk has implemented a new 10 point safety plan, one of which is the student IDs.
At Fredrick Douglass High School, metal detectors were in place after a student shot himself in the hand. According to WKYT, the student was in possession of a loaded pocket-sized handgun. This year, another student had a gun on campus at FDHS.
"I don't really have a strong opinion on the badges themselves, but I do like that the school is doing something to voice the concerns of parents and addressing a lot of the students' fears about the school environment," junior Paloma Bravo said.
In February, Principal Betsy Rains introduced student IDs with students' name, grade and yearbook photo. This year, however, the IDs have the student's name, grade, yearbook picture and a barcode that will allow access into the school for students who leave the building for community service, EBCE, or a technical school. Students were given new IDs with lanyards on Oct. 16.
Students were given lanyards provided by the school, however, they can use their own and put buttons or pins on them.
The IDs will also be used to enter the library and to check out books, and may eventually be linked to the cafeteria, and to checking in and out for hall passes in classrooms.
Students have three backup IDs if they lose the original one, but each replacement will cost the student $1. If a student does not have their ID, they will be sent to the auditorium until someone can bring their ID, or until they can purchase a replacement. If those options are unavailable, the student will be sent to SAFE.
"Students asked for increased safety and they received it. With these increased safety measures it's important that the protocol is followed," Principal Rains said.
In order to prevent students being sent to SAFE, Principal Rains also suggested that students buy a second ID for each backpack as well as putting them in the backpack at the end of the school day so they are ready the next day for it. She has also suggested putting them by phones, keys or on the rear view mirror so it's already there and ready for the next day.
"I don't mind [the IDs] at all but I don't like that they're sending us to SAFE if we don't have them," junior Bri Johnson said.
When it comes to how many students are in safe due to the IDs, it varies from day to day. With a little over 2000 students, someone will undoubtedly forget their ID.
"We had four the morning of Nov. 14. The first few days we had around 14 kids who forgot theirs," SAFE room teacher Mr. Scott Chalk said. "The system has slowed down, we get either one or two or six or seven students each morning. They're normally able to find a dollar or get someone to bring them their ID if they don't have it."
Since students are now graded on employability as part of Standards Based Grading, requiring IDs makes sense since so many careers require that employees wear them. You see professionals such as teachers, and doctors and nurses wearing them in their workplaces.
"So many real-life situations require an ID. It's good to start that now so it becomes a habit," Dunbar librarian Mrs. Summer Perry said.

Hang on for a minute...we're trying to find some more stories you might like.
About the Writer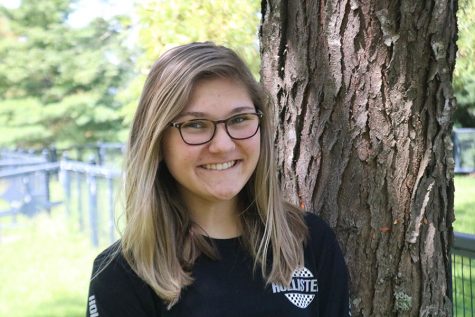 Hannah Chambliss, Writing Editor
My name is Hannah Chambliss and I'm on the Editorial Board as well as writing editor. One of my favorite things to do is write. I've been writing ever...