Welcoming Dunbar's New Teachers
Dunbar welcomes 12 new teachers for 2018-19.
Mrs. Amanda Brandenburg
Mrs. Brandenburg, who has been teaching for 12 years, has digital literacy and engineering classes. In her first five years of teaching, she taught math, which drove her passion for engineering.
"I discovered that engineering was way more fun," said Mrs. Brandenburg. "But we always apply it, and we know why we're doing the math."
She attended the University of Kentucky, and she is certified in math. She said she enjoys playing kickball and dodgeball, and she likes to read.
Mr. Christian Clark
Mr. Clark, a first-year teacher, has chemistry classes.
"I actually went to college to study physics," he said, "and then about a year in, I took chemistry classes and I thought chemistry was more interesting than physics, so I decided to switch my major."
Mr. Clark enjoys swimming in his free time.  He currently coaches a high school swim team and the Lexington Country Club summer swim team.  
Mr. Scot Gill
Mr. Gill taught for 24 years at Tates Creek High School.  He teaches AP Physics, Applied and Advanced Physics, and Astronomy.
 He said that he enjoys physics and that he chose to teach it because it challenged him, and it removes mysteries. "It explains how the world works, and it's kinda like peeking behind the curtain in a magic show. You see how the Earth really operates underneath, and the language of physics is mathematics – I like using mathematics to actually solve interesting problems."
Mr. Gill was a two-time state champion in dirt bike racing and he relates memories of racing back to his passion of physics.
Ms. Keziah Israel
Ms. Israel, Ms. Izzy to her students, has been in education for 12 years. She teaches in the Modern to Severe Disorders room (MSD).
"I teach because the kids need somebody to look up to," said Ms. Israel. She is very patient, skilled and enjoys helping her students.  
"I enjoy putting a smile on the kid's faces and helping them with stuff that they cannot do on their own," she said.
Ms. Danielle Jacobson
Ms. Jacobson is a first-year teacher and she teaches special education in the MSD classroom. She enjoyed being a peer tutor in high school, which led her to pursue a teaching career. She also volunteers in the community, working with special needs because of her care towards this group of kids.
"I hope that they have a successful year," said Ms. Jacobson.
Mr. Wes Johnson
Mr. Johnson is entering his 10th year of teaching. He formerly taught English before taking a ten-year break from the academic world. Johnson now teaches reading along with coaching the football team. He has a true passion to help his students learn.
"I love to have an impact on kids and share about my life and hopefully something that I can teach or inspire others to do well is kind of why I do it," said Johnson. Outside of teaching and coaching, he loves to be outdoors. Camping and kayaking are some of his favorite activities to participate in during his free time.
Ms. Jamie Preptit
Ms. Preptit, the newest addition to the art department, just started her 10th year of teaching. She teaches art classes along with the crafts classes at Dunbar.
"I really enjoy art, I think it's important for everybody to be creative," Ms. Preptit said. She also enjoys to garden, taking photographs, and spending time with her children.
Mr. Jason Singleton
Mr. Singleton entering his first year of his teaching career this year, although he has worked in schools before. He teaches special education and is the head coach of the JV football team.
Here at Dunbar, he fills the position of a co-teacher and is able to transport to different classrooms to collaborate with both teachers and students and enjoys helping out and working with kids. He loves coaching and takes pride in the team's effort and victories.
"We're 3-0. You can put that in there," said Mr. Singleton.
Ms. Angel Vowels
Ms. Vowels has been teaching family consumer science (FCC) for 10 years. This year, Ms. Vowels is teaching life skills and relationships classes at Dunbar.  She chose to teach these subjects because they are some of the most important classes.
"Everything I teach is life skills, it is basic skills everyone needs to know," she said. "I really love the content itself but also I get to teach something different all the time."
She has two children and loves to travel with them, "This summer we did a two-week road trip to Yellowstone."
Mr. Shaun Warner
Mr. Warner oversees the front door security at Dunbar.  He is also the assistant football coach. Mr. Warner is not only new to Dunbar but also to Kentucky. He was a school safety director in a Michigan school district for 18 years.
"School safety has been my job since longer than you guys have been alive," he said.  
He believes it is important to keep everyone in school safe as things have changed over the years and to be very diligent and preventative with our school security.
"I also think it's important that the students understand it's all of us that keep a safe environment, not just the adults."
About the Writers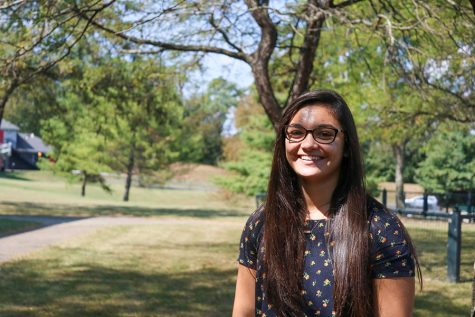 Alexis Radhakrishnan, Staff Reporter
My name is Alexis Radhakrishnan and I am a Junior at Dunbar.  I am on the varsity dive team and am a gymnast at Agility Gymnastics in Versailles. This...