Dunbar Drama Presents Anne Frank
The play based on the beloved book ran from Jan. 23-25.
PLD's Drama Department recently performed The Diary of Anne Frank. A play based on the events of two Jewish families in hiding during Nazi Germany.
"Learning about the holocaust and how easy and quick it is to turn from tolerance to intolerance of certain groups of people is important," PLD Drama teacher Mrs. Alicia Henning said. 
The Drama Department at Dunbar puts on two plays a year.
According to sophomore Aria Daffron, who played Anne Frank, the main thing that they wanted students and other viewers to take away is that it is important for students to stay informed about the history so that it does not repeat itself.
"This still happens today all over the world where people are used as scapegoats for the problems we may be having as a society, and instead of looking for the actual problem, we look for somebody to blame," Mrs. Henning said.
In July of 1942, the Franks went into hiding in order to escape the persecution of Jewish people, ordered by Dictator Adolph Hitler. Otto and Edith were the parents of Margot and Anne Frank. Another family by the name of Van Pels was portrayed under aliases: Hermann, Petronella, and Peter Van Daan. They were also a Jewish family living in Amsterdam with the Franks. 
A week after the Franks moved into the annex to seek asylum from the horrific acts against the Jews, the Van Daans joined them. The Frank and Van Daan families lived in a secret annex behind Mr. Frank's jam and spice business.
"The play is about the struggle with the confinement and emotions [that the families] feel," senior George Gordon said.
Gordon portrayed Otto Frank, the family's only survivor.
When Frank was freed, he found his daughter Anne's diary. Today, The Diary of Anne Frank has sold over 30 million copies in more than 60 countries and 70 languages.
About the Contributors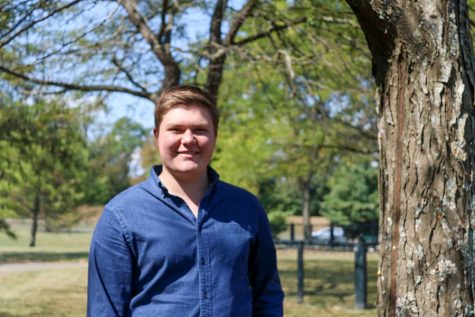 Logan Justice, Staff Reporter
Hi, my name is Logan Justice. I am a sophomore. I am a first-year staff member.  I have always loved news and broadcast and have considered pursuing this...
Sloan Scroggin, Broadcast Editor
I'm Sloan Scroggin and my passion lies in making you, the people smile and enjoy everything this program comes out with in each and every way possible.