I'll Be Gone In the Dark
A new release by true crime blogger, Michelle McNamara, was published posthumously.
I'll Be Gone in the Dark by Michelle McNamara is a true crime story about her obsession with solving the cold case of the Golden State Killer (also known as East Area Rapist) in Sacramento, California. The serial rapist and murderer committed at least 12 murders, more than 50 rapes, and over 100 burglaries.
Like many, I started reading this book the day he was caught. It was only then that I realized what a beautiful and prescient writing this book contains.
McNamara's work is extremely detailed for a non-detective. In the book, she explains her extraordinary fascination with catching the GSK: as a child, her neighbor was murdered, and the murder remains unsolved.
McNamara's prose draws the reader into this very dark, but true, story. She highlights important information that I had to keep going back to. I often had to reread paragraphs that I couldn't comprehend because I was so shocked.
Overall, the book was breathtaking because I knew the man she was searching for had been caught–but what's heartbreaking is that it happened after her death.
In fact, McNamara didn't finish the book herself. I'll Be Gone in the Dark was finished by two other authors after McNamara's accidental death. Although it has been said that the book played no part in catching the GSK, I find that hard to believe. There's a chapter in the book that discusses the limitations detectives faced when trying to use DNA from genealogy sites like Ancestry.com to match to DNA from the killer. And that's exactly what happened, even though there are concerns about privacy that have arisen because of this.
DNA led back to an ex-cop of the Exeter Police Department, Joseph James DeAngelo. The 72 year old man was taken into custody on April 24 where he was put on suicide watch.
McNamara took me inside the killer's mind, but he was always just out of her reach. The final pages of the book show us what McNamara imagined would happen someday. An excerpt reads:
"And then, after May 4, 1986, you disappear. Some think you died. Or went to prison. Not me. I think you bailed when the world began to change. It's true, age must have slowed you. The testosterone, once a gush, was now a trickle. But the truth is memories fade. Paper decays. But technology improves. You cut out when you looked over your shoulder and saw your opponents gaining on you."
And his opponents continued to gain on him until the day he was caught.
Even though DeAngelo is in custody, and the murders have been solved, this is still a book worth reading. It's more about McNamara and the victims than it is about the mystery, and it's worth the satisfaction of knowing the identity of the GSK has been revealed, even
If you are a true crime fan, put this book on your to-read list.

Hang on for a minute...we're trying to find some more stories you might like.
About the Writer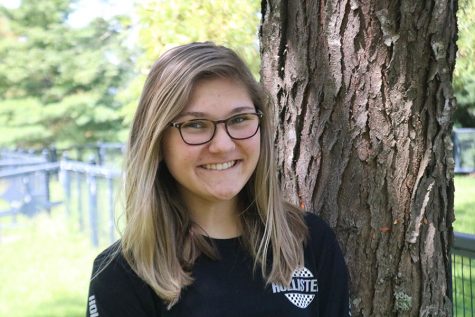 Hannah Chambliss, Writing Editor
My name is Hannah Chambliss and I'm on the Editorial Board as well as writing editor. One of my favorite things to do is write. I've been writing ever...