Art at the 21C Museum Hotel
This Lexington attraction presents modern art exhibits that leave visitors wanting more.
The 21C Museum Hotel is one of downtown Lexington's finest attractions. With establishments in several cities and locations, this company has designed a unique experience for their guests.
Lexington's location offers an upscale restaurant and lounge as well as modern boutique-style suites, but its main attraction is quite possibly the in-house art museum.
Most known for its blue penguin statues that move from room to room and the two-way mirrors in the bathrooms, this exhibit is unlike anything in the 859 area. The art is frequently reorganized and new pieces come and go so that guests never see the same thing twice. 
Because of February's dedication to Black History Month, many of the first floor displays were constructed around the African American community and the Black Lives Matter movement.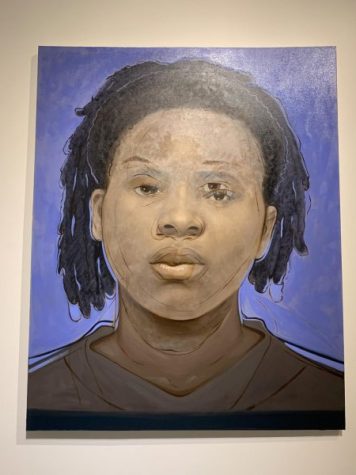 Destiny IV 
Titus Kaphar created this oil painting portrait made to reflect the image of real Black women and their time in incarceration.
His piece, which uses mugshots to blur together several faces, is about representing Black men and women in a new way. "My aim is to investigate the power of rewritten history," Kaphar said.
His encouragement to people of color is to shed this stereotype, redefine their fates, rewrite their stories to better encompass their identity. 
Floater No. 11
This bright acrylic painting is an eye-catcher because of its vibrant color palette and message.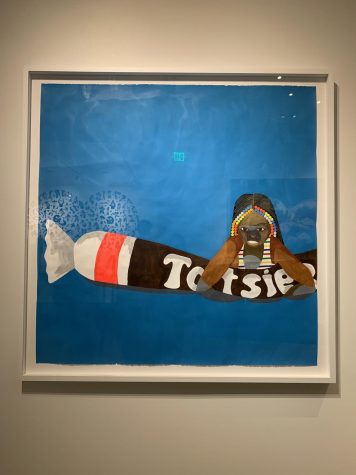 Derrick Adams, an American artist, tackled the topic of Black people at leisure, which he says is rarely addressed. His goal was to paint them in a positive way and to humanize them because the media often ostracizes the community.
This piece was especially compelling to me because most art is dramatic and emotional, whereas this piece has a nuanced simplicity that makes you want to look at it again.
When African Americans are depicted in art, it is usually showcasing how they have continuously fought to overcome oppression or created some sort of imagery with a more serious connotation.  "The generations to come need to see us laughing, loving, playing, and enjoying life," said Adams.
This light and the carefree image is a counteraction to what we normally see of the Black community in art.
Cumulous Brand, Bill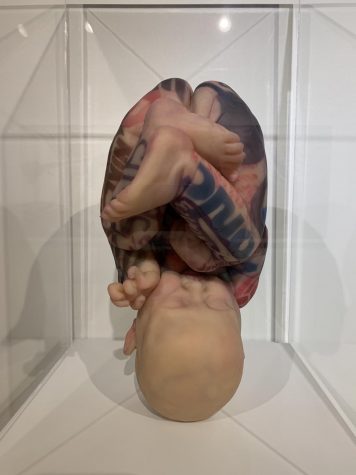 Out of all the works of this gallery I was most intrigued by Dietrich Wegner's Cumulous Brand. Although this piece may seem visually unappealing or even slightly unsettling, it is brilliant in how it portrays and exposes the environment of consumerism that is so prevalent in our world.
This silicone model of a newborn is tattooed with labels, brand names, and logos of major corporations, suggesting that humans of this generation and those to come are exposed in utero to the growing consumer-driven lifestyle.
The museum label pointed out that this is a proposal that we are what we eat, drink and buy.
To me, this was one of the most clever pieces in the entire exhibit. 
All these pieces were captivating and reminded me that art is subjective; everything we create tells a story and that story is pronounced differently to every onlooker. Around every corner, there was something eccentric and thought-provoking. The 21C creates an ambiance that is unparalleled; the art displayed transcends the limits of "normal" and makes observers look at the world in a completely different light.  
This show will be on display through June 2021.
About the Contributor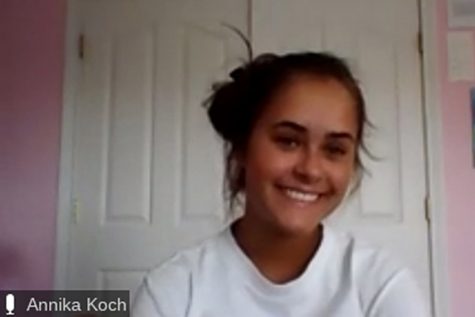 Annika Koch, Business Manager
My name is Annika Koch and this is my third year on staff and second year on the Editorial Board. I first joined this program as a member of the photography...