Eminem's Surprise Album
Eminem recently dropped a new surprise album called Music To Be Murdered By, his 11th studio album released on January 17, 2020.
"Premonition"
The first track of the album is called "Premonition" and starts off with the sound of a woman screaming. During his verses, Eminem references multiple cases of mass shootings and notorious terrorist leaders. He also references church and school shootings. All throughout the song, he uses gunshot sound effects.
"Unaccommodating"
This song features rapper Young M.A. whose verse is short-lived as Eminem quickly takes the mic.
"You Gon' Learn"
His third track features Royce Da 5'9 and White Gold. This song starts off with a slow trap beat with Royce Da 5'9 singing the tag, "You Gon' Learn." The beat then changes into a drum set rock beat. Eminem comes in soon after and raps about how he is getting tired of carrying the rap game.
"Alfred"
All that can be heard is an eerie background and a voice from Alfred Hitchcock.
"Those Kinda Nights"
The sixth track features Ed Sheeran. This song starts off with a fast trap beat and Eminem rapping right off the bat, and it reminds me of Eminem's original stuff. This song talks about him trying to pick up girls at a club and how it has changed from when he was younger. He says that the girl he was trying to pick up was bi-sexual and high.
"In Too Deep"
The seventh track has an indie/alternative beat and features guitars and brass instruments. Eminem talks about cheating on his girlfriend and being happier with the girl that he is cheating with.
"Godzilla"
The eighth track features Juice WRLD who recently died due to drug abuse. The song starts off with a fast trap beat with Eminem instantly starting off the song. The beat picks up after a while and heavy bass sounds come in. Once Eminen is done, Juice sings the chorus. This song is personally my favorite song on this album.
"Darkness"
The ninth track starts off with a slow trap beat and piano chords from the Simon and Garfunkel song "Hello Darkness My Old Friend." This song is one of the more somber songs on the album mentioning how he doesn't want to feel alone anymore.
"I Will"
The 10th track is the last official song on the album featuring KXNG Crooked, Royce Da 5'9 and Joel Ortiz. The beat is not very strong in the beginning and starts off with Eminem singing. Royce Da 5'9 takes his verse right after the chorus. This song is my least favorite in the album.
"Alfred – Outro"
The last track on the album is a 39-second track voice memo with an instrumental track in the background with the same voice that was in the interlude.
About the Contributors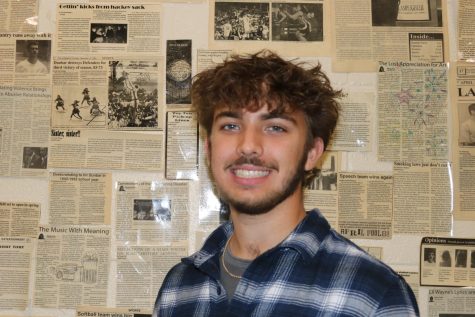 Jackson Williamson, Staff Reporter
I am a junior at Dunbar, and this is my third year on staff with Lamplighter. I've done sports writing my last two years and I've also helped filmed...