Top 5 Flicks to Catch in 2019
This year has a promising list of movies including long-anticipated sequels, remakes and adaptations as well as some original material. These are the five movies of 2019 I can't wait to see:
5. Aladdin
Set to release on May 24, 2019, this year's second Disney remake after Dumbo will be directed by Guy Ritchie. Despite some of Disney's past remakes, Aladdin is said to have beneficial add-ons to the storyline.
Jasmine, played by Naomi Scott, will have a female counterpart in the film. Saturday Night Live star, Nasim Pedrad, will play Jasmine's handmaiden and best friend who helps her navigate the multiple suitors attempting to win her hand. Besides that, the film will also feature a much-needed solo for Jasmine.
4. Jumanji 3
Back again is Jumanji with its third installment in the series. Upon viewing the second installment, I originally thought that Jumanji: Welcome to the Jungle would be a reboot of the Jumanji franchise due to the lack of references to the previous film. As one would expect, Sony wants to keep the Jumanji train going, with the last Jumanji movie making $950 billion around the world.
Jumanji 3 is currently scheduled for release on December 13, 2019. That gives it precisely one week before Star Wars: Episode IX takes over the box office, similarly to 2017, when both movies were in competition for the top spot in the box office.  
Besides all that, I'm excited to get back to the series particularly because of the last film's comedy. Jack Black plays a flamboyant teenage girl stuck in a 40-year-old man's body.
3. Spider-Man: Far From Home
Directed by Ant-Man and The Wasp's Jon Watts, this film is scheduled to be released on July 5, 2019. While I have not seen Ant-Man and The Wasp, I know the movie reviews about it are not that good. Since Far From Home will have the same director, hopefully, the film will turn out better.
In Far From Home, we're set to follow Peter and his friends on a school trip in Venice, ITA, until he is recruited by Nick Fury, played by Samuel L. Jackson, to face an unknown evil we're bound to find out about in future trailers.
What I find most interesting in this film is that Mysterio, a possible villain, will be played by Jake Gyllenhaal.
2. Us
Jordan Peele's follow up to the smash hit Get Out looks like terrifying thriller starring Winston Duke and Lupita Nyong'o as the parents of a family of four on vacation. The trip is interrupted by the arrival of four visitors—who turn out to be each family member's doppelganger.
Each doppelganger represents the character's worst fears and inner turmoil, turning this fun and normal family getaway into a horror about their own inner enemies.
After Get Out, I have mad respect for Peele, making me I am thrilled for this film.
1. Star Wars: Episode IX
Since the film will be following its regular tradition of releasing on December 15, there is currently not much known besides the returning cast. The saga comes to a close as J.J. Abrams returns as the director. Abrams directed the seventh installment in the franchise, Star Wars: The Force Awakens, however, did not direct the eighth.
I wasn't sure about giving this my number one spot, given that the previous film was highly polarizing in the media due to director Rian Johnson's "unique" film choices regarding the franchise. Therefore, I can't wait to see how Abrams will carry out significant events like Princess Leia's fate in the wake of Carrie Fisher's death or Rey and Kylo Ren's final lightsaber showdown.
About the Contributors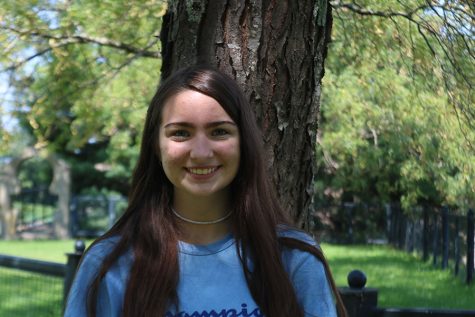 Madeline Fiero, Staff Reporter
Hi, my name is Madeline Fiero or Maddy for short. As a sophomore, this is going to be my first year of PLD Lamplighter, and I am truly excited for what...