New Golden Globes Inspired Trends
The Golden Globes red carpet showcased a new trend that seemed to be favored by many celebrities
The Golden Globes Awards is a celebration of the movies and television series that were produced and broke many barriers in 2018. From Black Panther to A Star is Born to Killing Eve, the Golden Globes recognizes brilliant pieces of entertainment and is definitely something to watch, including the pre-show red carpet where celebrities strut their stuff wearing the latest couture fashion.
A major award season event every year, the Golden Globes red carpet showcases beautiful gowns, slick suits, and risk-taking outfits.
Last year was memorable for sure, with everyone wearing all black outfits to show their support for the Me Too and Times Up movements. The striking scene was as powerful as it was groundbreaking.
Even though there was no event planned to have the celebrities wear similar clothing, it happened anyway, showing signs that a new trend may be in the works.
Danai Gurira, Constance Wu, and Gemma Chan were some of the many celebrities who incorporated a bow in their look. Bows have been around forever, but they made their high fashion debut on the high fashion gowns and hair of Hollywood's finest.
There were many trends on the Golden Globes red carpet this year, including blue hues, shades of green, velvet statement pieces, and princess gowns.
However, none were more prominent or more done than the bows. Dakota Fanning's delicate touch of having five small bows cascade down her back added a beautiful, feminine touch to her outfit.
Also, even though some had mixed views on it, Nicole Kidman's black bow in her hair was the perfect accessory to her sleek maroon dress.
Overall, the bows were all expertly placed and done so that they added, not overtook, to whatever ensemble they were used on.
With bows making a splash at the Golden Globes, it begs the question if we will start to see them become popular in street style, or maybe even find its way to Dunbar.
About the Contributors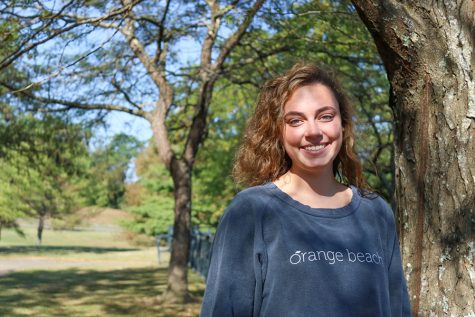 Eleanor Davis, Editor-in-Chief
I'm Eleanor Davis and I am a Senior at Dunbar. This year marks my third year on staff and I am fortunate enough to be one of the Editors-in-Chief for Lamplighter....