Panic! at the Disco
Panic! at the Disco, an American rock band, released two new songs as a preview of their upcoming album, which is set to release in June.
Panic! At the Disco just released two new songs, "(F**k a) Silver Lining" and "Say Amen (Saturday Night)" as part of their new album, Pray For the Wicked.
Each album they have released has been different from the one before. A Fever You Can't Sweat Out, their first album, had multiple catchy songs such as "I Write Sins Not Tragedies," one of their most well-known songs and music videos. This album mimicked the early 2000s styles of Avril Lavigne and Fall Out Boy.
They have changed drastically since then, developing a style that is more modern and alternative.
"(F**k a) Silver Lining," for example, is extremely catchy and upbeat and shows off lead singer Brendon Urie's range tremendously. The songs harken to their fourth album, Too Weird To Live, Too Rare To Die, specifically the song "Miss Jackson."
"(F**k a) Silver Lining" has the same catchy attitude and rhythm as "Miss Jackson." With his recent performance in Kinky Boots on Broadway and professional training of his voice, it's easy to see that Urie's voice has changed, but in a good way. Compared to "DOAB" his voice sounds more controlled.
Panic! At the Disco are known to include a metaphor or saying in their songs that is left open to interpretation by the listener. For example, "every cloud has a silver lining." In the chorus of the song, the lyrics are, "F**k a silver lining, 'cause only gold is hot enough," Urie is saying that he wants more than a silver lining. He wants something better: gold.
The second song, "Say Amen (Saturday Night)," is stunning and filled with meaningful lyrics. The first lines are, "Been traveling in packs that I can't carry anymore, been waiting for somebody else to carry me." Some think this may be related to the fact that Urie is the only original member of the band left. Even though this is the case, fans clearly have much to look forward to with the rest of album, set to release on June 22.
About the Contributors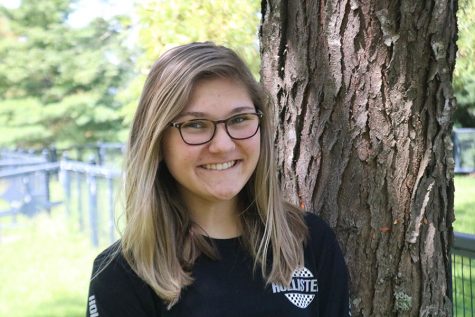 Hannah Chambliss, Writing Editor
My name is Hannah Chambliss and I'm on the Editorial Board as well as writing editor. One of my favorite things to do is write. I've been writing ever...