Upcoming Concerts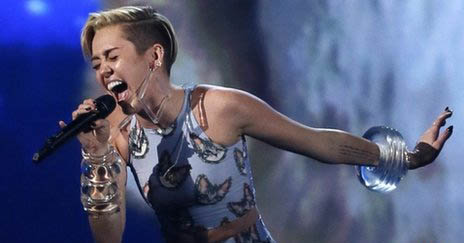 Spring is here, and if you still have money left from the holidays, concerts can be fun ways to spend it. Here is a list of popular and upcoming concerts near us:
The Miley Cyrus is touring for her new Bangerz album. She is coming to the KFC Yum! Center in Louisville on April 19. Tickets are on sale starting at $40. Sky Ferreira and Icona Pop are her opening acts. The concert will start at 7:30 pm with Sky Ferreira singing a collection of songs from her album, Night Time, My Time and a couple of her newly released singles. Icona Pop, a Swedish duo formed back in 2009 with electro, punk and indie influences, will be performing next. Their biggest hits are I Love It and Manners. After the opening acts, Miley will be putting on an interesting show. With giant stuffed animals, hotdogs and weird outfits the show will be one to remember.
Country star Jake Owen will be performing at the Diddle Arena in Bowling Green, Kentucky, on April 24. Tickets are going on sale starting at $51.90. Owen is touring since he released his new album, Days of Gold and with his fourth consecutive number one hit, Anywhere With You. Eli Young Band, Parmalee, Thomas Rhett and The Cadillac Three are the opening acts for this tour, however not all will perform in the same show.  Parmalee is a family band of brothers, cousins and best friends. Jake Owens' last tour in 2012 made CMT history for the most sold-out shows in a row for the annual nationwide tour. With Jake Owen being very energetic for his live shows, this concert should be a lot of fun.
Christina Perri plans on singing new and old hits during her 2014 tour. She will be coming to Louisville on April 25 at the Mercury Ballroom. She is interested in playing live in as many cities as possible, so be sure to keep your eye out for extra dates coming out. Perri is going on tour to show off her new album, Head or Heart. The tickets are going on sale starting at $22.50 in advance and $25 the day of the show.  New and upcoming singer, Birdy will be opening the concert starting at 8 pm. Birdy will be playing songs from her new album Fire Within. Birdy was recently nominated for British Female Solo Artist at the 2014 Brit Awards. Christina Perri took off in the music business in July 2010, when her song Jar of Hearts went viral. Ever since then, her albums are known as being real, "My intention for my music is pretty simple: I want to make people feel less broken and alone," said Perri.
The Kentucky Derby Festival in Louisville is bringing hot, new and well-known artists to perform this year. The concerts will be held at Kroger's Fest-a-Ville on the Waterfront. The band, the Mowgli's, will open up for the Fray on May 1 and Cassadee Pope and Steve Holy will open up for new, hot country singer, Scotty McCreery on May 2. Tickets went on sale for $32.50 for each show. The Mowgli's will be playing some of their alternative rock songs and since the Fray just released their fourth album, Helios, they are excited to bring their new works to the festival. Scotty McCeery was  American Idol's Season 10 winner and Cassadee Pope was the The Voice's Season 3 winner. These artists will bring an audience that enjoys music and reality TV. The involvement of the community has made the Kentucky Derby Festival the largest single attended event in Kentucky and one of the leading community celebrations in the world.
Ellie Goulding will be kicking off her summer concert series on May 7 in Cincinnati at The Shoe at Horseshoe Casino. The tickets are going on sale starting at $38 and the concert will start at 8 pm.  The show will be outside and will be a standing room only event. Last year, Goulding released her new album Halcyon and then later released a special edition with more songs including her biggest hit single, Burn. Goulding just put out the soundtrack Beating Heart for the new movie, Divergent, last month.
The band All Time Low will be playing at the venue Expo Five, in Louisville on Wed. April 23, 2014. Man Overboard and Handguns will be opening for the band. The tour is called A Love like Tour and they will be playing songs from their album, So Wrong, it's Right to Don't Panic. This will include a variety of songs and the dates are selling out fast, so be sure to get your tickets soon. Tickets are going on sale starting at $45. Man Overboard will be playing songs from a plethora of their new albums. Shortly after these performances, Man Overboard will be starting a new tour called The Heart Attack Tour, with great influence from All Time Low. All Time Low got their name from the lyrics in the song, Head on Collision by New Found Glory. They consistently tour all year, headlining tours and appearing at numerous music festivals including Warped Tour and Soundwave. These three bands together will be one punk rock concert you won't want to miss.